Four teams and three games left. Let's go …
• The 49ers and Eagles have faced off just twice over the last five seasons—the Niners beat the Eagles in Philly in Sept. 2021, and the Eagles beat the Niners in Santa Clara in Oct. 2020. So for both teams, there's going to be a bit of a learning curve this week.
That was reflected when I asked Fred Warner on Sunday what he knows about the Eagles.
"Not much," Warner responded. "Obviously from afar, they look like a heck of a team. I gotta watch the tape but I got a lot of respect for their team as a whole, and especially their offense, great O-line, great receivers, great running back, running quarterback. You can't draw it up any better than that."
One commonality here: Both teams have quarterback on rookie contracts, and loaded rosters around them. Another commonality? Both have cap numbers pushed to the future. The Eagles have just two eight-figure cap numbers this year. That number will grow to five next year. Similarly, the Niners have four this year, and will have seven next year. So both are built for the here and now. (We'll have more on the roster construction of the four conference finalists a little later in the week).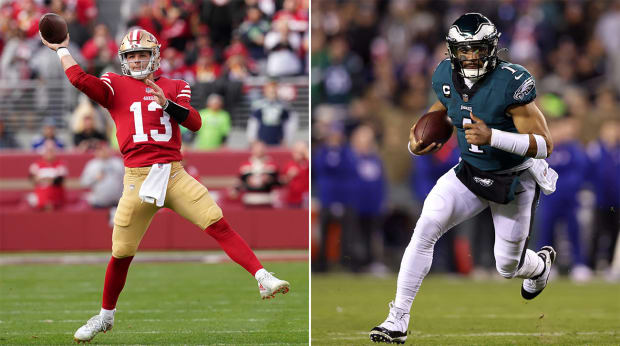 • On the other side of the ledger, there's a ton of familiarity—Sunday's AFC title game will be the fourth game between the Chiefs and Bengals over the last 13 months, with Joe Burrow and Cincinnati having won the previous three. And on both sides, there are significant injuries to keep an eye on.
Obviously, for the Chiefs, the question will be what version of Patrick Mahomes will take the Arrowhead field, just eight days after he suffered a high ankle sprain.
For the Bengals, the questions hover, really, over their entire offensive line. La'el Collins is out with a torn ACL. The status of left tackle Jonah Williams and right guard Alex Cappa remains up in the air. So the Bengals might have to win a second straight playoff game down three starting offensive linemen.
The good news is that the Bengals got better-than-expected play from young tackles Hakeem Adeniji and Jackson Carman in Buffalo on Sunday. And there's promise, since the former is a third-year player and the latter is a second-year guy, that the performance against the Bills is a sign of real progress, which would speak well of the work of Zac Taylor's staff, and in particular line coach Frank Pollack, in developing the young guys.
Remember, Carman and Adeniji were seen as part of the problem last year, ahead of the Bengals completely blowing up and starting over on the offensive line. So credit the Bengals with sticking with those guys, and those guys for keeping their heads up through that.
"Guys get better every year that passes," Taylor told me. "It's hard for young guys to come in here and play ball, and what Cordell Volson is doing right now is not the norm, to come in here and just play high-level from the get-go. It takes time, it takes patience, and that's what these guys have done. They've just stayed the course. And now, when the moment calls for them, they've stepped up and delivered for us."
So maybe the Bengals will be O.K. either way?
• I thought Warner would have good insight into Brock Purdy, given that he faced Purdy plenty in practice over the last few months when Purdy was running the scout team, and perhaps what's been at work in having him start his career with seven straight wins. On Sunday, Purdy will become the first rookie QB to start a conference title game in 13 years, and the fourth to do so since 2000 (joining Ben Roethlisberger, Joe Flacco and Mark Sanchez).
"He's handled it great," Warner said. "Great poise and he's done what is needed to win football games, obviously. And he doesn't have to do too much, just gotta continue to protect the ball and make the plays when they're there."
Purdy, in many ways, is doing just what Roethlisberger, Flacco and Sanchez did, playing an efficient game that allows an otherwise loaded roster to lean into its strengths. Purdy's numbers were pedestrian against the Cowboys. He completed 19-of-29 throws for 214 yards and an 87.4 rating.
But look closer at the numbers and you'll see the other thing Warner's getting at, Purdy's making plays when they're needed—he was 8-of-11 for 64 yards on third down Sunday, and the Niners easily outperformed the Cowboys as a team on third down (50%–33%).
• I saw enough "Might wanna cover 87" tweets on Saturday to be motivated to ask someone with the Chiefs why it's so hard for defenses to get a handle on Travis Kelce. And it was interesting to hear Chad Henne, when I went to the backup quarterback on it, point back to Kelce's experience as a high school quarterback.
"I mean, obviously he's elusive and he's shifty, but at the same time, he sees the field like a quarterback," said Henne. "So he sees the defense, he knows exactly who he's working off of, at all times, and that's what makes him so open. He just attacks the leverage, he kind of studies what he's done in previous games, and he plays it off that, and gives himself different looks and sets up his routes that way.
"But like I said, he sees it like a quarterback, especially in zone coverages, he knows the holes that he's supposed to get into. And we give him that freedom. Coach Reid always says Hey, even in motions, you need to get off if they're going to jam you. Just get where you need to be. We know you're going to be in the right spot."
Kelce, of course, almost always is.
• One last thing on the college declarations, and the decisions these kids have to make—I actually think that both C.J. Stroud and Blake Corum made the right calls on their futures, and I say that even though it hurt my alma mater and helped our rivals.
To me, the contrast between the two perfectly illustrates how layered these decisions are.
Stroud plays the most valued position on the field, and is coming off arguably his best game as a collegian. Seven of the top nine teams in the draft order have some level of need for a young quarterback. And this year, he'll be competing with Bryce Young, Will Levis and Anthony Richardson for draft position, where next year he'd be up against Caleb Williams and Drake Maye, and Quinn Ewers and a few others could leap to that elite level in the fall.
Bottom line, he's got less competition, a bevy of quarterback-needy teams picking high, and the potential for somewhere between $22 million (the 10th pick) and $41 million (the first pick) fully guaranteed, numbers that dwarf whatever he could reap in NIL money, even at a college football blue blood like Ohio State.
Conversely, Blake Corum plays a devalued position, and is coming back from a full meniscus repair that'll sideline him at least into May. What's more, while he was hyper-productive in 2022, the biggest question he faced going into the draft cycle was just how fast he actually is at 210 pounds. So not being able to run at combine or pro day would've been a real problem for him. And so it'd have been hard for him to distinguish himself among a glut of potential Day 2 backs in position to go behind Bijan Robinson and Jahmyr Gibbs.
Adding all that up, it's fair to see a scenario where Corum would've slid well into Day 3, and might have lost a guarantee of making someone's roster, with the knee surgery complicating his ability to fight for a role in the spring and summer. Also, at that point, there would certainly be a chance that he'd make more in NIL money as a returning hero in Ann Arbor than he would as an end-of-the-roster rookie in the NFL.
So, in the end, I think both Stroud and Corum made the right decisions. And their circumstance should show everyone how much goes into making them.
• I'm not so sure Houston and Carolina aren't better situations for Sean Payton than Denver and Arizona. In the latter two, you have an expensive quarterback with injury concerns coming off a bad year, a tight salary cap situation and, in Denver's case, a dearth of 2023 picks.
Meanwhile, Carolina has a really solid base of young talent, a top-10 pick and seven picks in the first five rounds (albeit with a tight cap situation). And in Houston, you'd have two first-round picks in each of the next two years, including two inside the top 15 this year, plus over $40 million in cap space and some nice young pieces that made the team competitive enough down the stretch to play its way out of the first overall pick.
Now, I'd say geographically, both Arizona and Denver have an edge, because I do think Payton likes being out west. But there's a lot to think about here from a football perspective, enough so to where Payton taking another year off is a possibility.
• The Jeff Bezos story in the New York Post is an interesting one. It is true that perception among NFL owners has been that Dan Snyder hates the Washington Post enough to the point where he'd refuse to sell the team to Bezos. And if the New York Post is correct, that Bezos would sell the Washington Post to fix that problem, then things would get pretty interesting for Snyder.
Plenty of owners would like to have Bezos among their ranks, but some assumed that he'd wait for the Seahawks to come available before buying a team. If Bezos wants the Commanders, I'd guess some owners (maybe one in north Texas) would try and persuade Snyder to sell to him.
• That the Ravens would claim Lamar Jackson's cousin, Trayvon Mullen, off waivers is at least interesting, if nothing else. Trust is, and has been, an important part of keeping this years-long negotiation from getting ugly. And so my guess is if this is an olive branch from team to player ahead of the sides heading back to the table, it'd be appreciated.
• The Colts' process has been informative in what owner Jim Irsay's intentions with the team are going forward—GM Chris Ballard has been running the interviews, which would seem to indicate he's safe regardless of who the team hires. Also involved in the interviews have been director of team development Brian Decker, vice chair Carlie Irsay-Gordon (Jim's daughter) and PR and HR staffers.
• Finally, it does feel like ex-Lions and Colts coach Jim Caldwell has gotten some traction through the last few weeks. I wouldn't be surprised if Carolina and/or Denver bring him back for second interviews. And I'd also keep an eye on Frank Reich with the Panthers if Carolina can't land Sean Payton.