The running back position doesn't have a ton of superstars available on the free agent market, but there are a few names of interest … none more than Saquon Barkley. After two injury-plagued seasons, the superstar back remained healthy in 2022 and finished fifth in fantasy points at the position with 284 (17.6 PPG).
The most likely scenario is that Barkley remains with the Giants, whether it's via a new contract or the franchise tag, and most of us would agree that it's among his best (or maybe the best) landing spots. But where else would Barkley retain the most fantasy value if he didn't remain with the G-Men? This doesn't have anything to do with salary caps, money, etc., but it's more about his overall fantasy appeal.
Here are five teams that could have a need at running back and would be interesting spots for Barkley to land next season. Let's start off this fun exercise in Buffalo.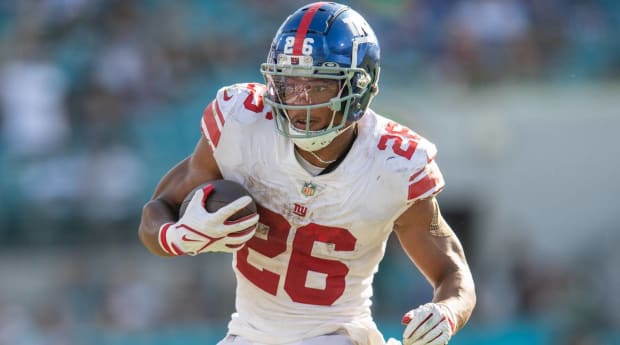 Buffalo Bills
Devin Singletary is slated to become a free agent, and James Cook isn't built to be a true featured back. So, what if the Bills went all in and landed Barkley as their new lead runner? He would lose some red-zone opportunities to Josh Allen, but Barkley would also be in a far more balanced offense where defenses couldn't key on stopping him. Barkley would remain a dual-threat back in an explosive offense.
Kansas City Chiefs
The Chiefs appear to be done with injury-prone and inconsistent Clyde Edwards-Helaire, and Jerick McKinnon is slated to become a free agent. With JuJu Smith-Schuster also heading toward free agency, Kansas City could be in the market for a pass-catching, versatile back. Imagine putting Barkley in the same backfield as Patrick Mahomes? That would be every fantasy manager's dream come true!
Philadelphia Eagles
This would absolutely kill fans of the New York Giants, but the Eagles could be in the market for a starting running back, with Miles Sanders and Boston Scott slated to become free agents. Their offense is already loaded with the likes of Jalen Hurts, A.J. Brown, DeVonta Smith and Dallas Goedert, and it would become nuclear with Barkley in the team's backfield. He'd also remain a top-five back in fantasy land.
Miami Dolphins
The Dolphins could have a gaping hole in the backfield this offseason, as Raheem Mostert, Jeff Wilson Jr., Salvon Ahmed (RFA) and Myles Gaskin are all slated to be free agents. With a huge need at the position, Miami could decide to go all in and make a huge push for Barkley. Coach Mike McDaniel's offense was very fantasy-friendly, and adding Barkley to Tyreek Hill and Jaylen Waddle would be insane.
Chicago Bears
The Bears utilize a run-based offense with an up-and-coming young quarterback in Justin Fields, but the team needs playmakers around him. With veteran David Montgomery heading to free agency, could Chicago make a run at Barkley as the centerpiece of their offense? With no real alpha wideouts on the roster, he would see a ton of touches both as a runner and a pass catcher in this scenario.
---
Michael Fabiano is an award-winning fantasy football analyst on Sports Illustrated and a member of the Fantasy Sports Writers Association (FSWA) Hall of Fame. Click here to read all his articles here on SI Fantasy. You can follow Michael on Twitter, Facebook, YouTube, and Instagram for your late-breaking fantasy news and the best analysis in the business to help you win a fantasy championship!