Two years before presiding over one of the biggest comebacks in NFL playoff history, Doug Pederson was just another recently unemployed coach who couldn't get far enough away from a sideline. "Gosh, I went several weeks after being let go by the Eagles [in early 2021], just riding off into the offseason," recalls Pederson. "I needed to take a break. I needed to relax. I needed to clear my head."
At the same time, Pederson knew he didn't want to remain away from the league for long. "I think there's two types of coaches," he says. "One who's content looking forward to retirement, and the other, like myself, who's eager to get back." But he had little idea of what to do football-wise in the interim, beyond booking a few trips to visit some coaching friends during training camp and conducting an informal autopsy of his Eagles tenure. "Just jotting down my thoughts: what was good, what was bad, how I would do things differently, what I would do the same," he says. "That was my plan."
Then Pederson received an email that altered his plan for the better. It was from former Jets and Dolphins executive Mike Tannenbaum, inviting Pederson to check out a meeting of The 33rd Team, a nascent company cofounded by Tannenbaum that bills itself as "the premier football think tank." More curious than convinced, Pederson logged on and never looked back, becoming one of dozens of regulars at The 33rd Team's weekly Zoom calls, right up until the Jaguars hired him last February. "It kept me engaged in the game," Pederson says. "You've got to keep your mind sharp; you've got to keep thinking football and staying on top of things, and The 33rd Team really helped me accomplish that."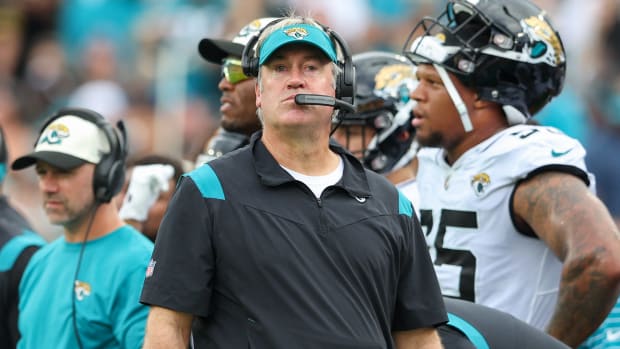 On its website and social channels, The 33rd Team offers an array of insider-y content to its audience, from video interviews of active players breaking down their peers—Saints edge rusher Cameron Jordan and Buccaneers running back Leonard Fournette are among frequent contributors—to articles of armchair analysis bylined by former coaches (Wade Phillips, Mike Martz) and former executives (Bill Polian, Rick Spielman) alike. But the most intriguing production takes place away from the public eye, where The 33rd Team's roots lie as a waystation for out-of-work NFL minds wanting to stay sharp while waiting for that next opportunity. "We're set up to be transitory," Tannenbaum says.
Pederson is hardly the only former coach to find value in Tannenbaum's enterprise. Mike Zimmer started tuning into video calls after the Vikings fired him in January 2022, as did Matt Rhule and Frank Reich when they were, respectively, let go by the Panthers and the Colts in the middle of this season. Alumni include the latter's replacement in Indianapolis, retired center turned ESPN commentator Jeff Saturday, and Cowboys defensive coordinator Dan Quinn, now among the hottest candidates on the coaching market with another hiring and firing season underway. "When you're in it, you're concerned with your team and the next opponent," longtime offensive coordinator and former Lions head coach Marty Mornhinweg says. "Being involved with The 33rd Team, you get to step back and look at the big picture, both scheme and personnel, for the whole league."
In addition to its growing commercial media arm, the operation has evolved to house a robust college internship program for aspiring scouts and analytics staffers, one that has seen 13 graduates thus far go on to find internships, or even full-time jobs, with teams in the league. But, more than any individual success story, the effectiveness of The 33rd Team is best symbolized by the symbiotic way that its seemingly opposite sets of members interact as a single squad. "You have young men and women who'd give their left arm or leg to work in the NFL, then you have former players, GMs and players who want to stay current," Tannenbaum says. "Marrying those two buckets, it was really magical."
On the last day of 2018, on the heels of a 7–9 season, the Dolphins announced Tannenbaum had been reassigned from his role as executive vice president of football operations, all but ending his time at the franchise's helm after four years. A few months later, he was hired by ESPN as an analyst and assigned to cover the '19 NFL draft on ESPN Radio, though Tannenbaum quickly discovered the gig came with unfamiliar challenges. "I went from having 150 people reporting to me, to zero," he says. "I was preparing for the draft with 25 in our scouting department, and now it's just me."
Seeking counsel, Tannenbaum left the network's main campus in Bristol, Conn., and immediately drove an hour north to his alma mater at the University of Massachusetts Amherst, where he met with his mentor Lisa Pike Masteralexis, a professor of sport management. As Tannenbaum recalls telling her, "I'm willing to pay a couple students, and I'll mentor them, but I just need help. I have to create a database and write reports, and this 33rd team has to have the same standard as the other 32 teams."
The seeds of the capitalized version of The 33rd Team were planted then and there. For his draft needs, Tannenbaum enlisted the services of two then UMass graduate students, Andy Hanson and Sydney Robinson. But the exercise also made Tannenbaum wonder how many others might benefit from similar assistance in transitioning to life outside the league. So he hit up some old NFL acquaintances and got them together to talk. "There were five of us, and it was literally, Here's what's going on in the league," Tannenbaum says. "Now we have 85 people on our weekly calls."
Held every Wednesday at 5 p.m. Eastern, these meetings pack plenty into their hourlong agendas. "We'll have reports on analytics; we'll watch film," Tannenbaum says. "It's really about talking football at the highest level possible." Former NFL director of officiating Dean Blandino regularly appears to analyze controversial penalty flags (or, sometimes, lack thereof) from the previous week's action. Jessica Flynn, an orthopedic surgeon and sports medicine physician in Burlington, Mass., often lends her expert opinion on notable player injuries and their projected recoveries.
One recent call featured Martz breaking down tape of Trevor Lawrence, Justin Fields and other class of 2021 quarterbacks. On another, drawing inspiration from the improbable rise of the 49ers' Brock Purdy, Mornhinweg joined Rich Gannon and Matt Cassel in discussing the importance of developing young signal-callers during the season. Tannenbaum and his 33rd Team cofounder, former Eagles and Browns exec Joe Banner, are also currently holding virtual Friday get-togethers wherein they simulate the player grading process that personnel departments are undergoing for the '23 draft.
The discourse is as enriching as it is free-flowing. "Our calls are at their best when Doug Pederson is asking Wade Phillips about protections, and I'm eavesdropping on the best of the best," Tannenbaum says. "It's a great conversation to be a part of, because we're all here to learn." Plus, given that no one is actively employed, the open-floor format fosters a welcome frankness. "Nobody has any reason to hold anything back," former Bengals coach Marvin Lewis says with a chuckle.
Lewis, whose 16-year tenure with Cincinnati ended after the 2018 season, initially learned about The 33rd Team through the grapevine via former Buccaneers coach Dirk Koetter and former Colts coach Chuck Pagano. "They said it kept them involved with what's going on in the game, the new trends and so forth," Lewis says. "And that it didn't take a whole lot of time to do it, but yet it was something they were gaining some value." Participating in his first Wednesday call last summer, Lewis soon realized what Koetter and Pagano meant. "Every week there's an interesting perspective," Lewis says. "Everybody sees things a little differently." But he also recalls feeling "overwhelmed" at the sheer size of the group, staring at a Zoom screen "filled with boxes of every out-of-work GM, scout, coach … I mean, it was impressive."
Among the horde of attendees, Tannenbaum estimates, anywhere from half to two-thirds fall into the bucket of what he describes as "experts"—predominantly former players, coaches, executives looking to stay up to speed with league happenings, whether for their present jobs in media or, hopefully, future ones back in the league. ("Some guys are retired but just like the banter of the call," Tannenbaum says.) To keep the discussion manageable, only these people have speaking permission on the Zoom calls. The other half to one-third is relegated to listen-only mode, rarely seen or heard but nonetheless felt in meaningful ways—for instance, Lewis notices, whenever Zimmer unmutes.
"Zimm and I, we're old-school," Lewis says. "So if Zimm drops a stat, I just kinda grin because I know he got it from his intern."
Back in early 2019, fresh off his Dolphins firing and ESPN hiring, Tannenbaum sat down on campus at UMass with a quartet of advisers—Pike Masteralexis, Hanson, Robinson, and sport management professor Steve McKelvey—to brainstorm how he would tackle covering the draft. "I was really nervous," he says. "It was an incredible opportunity, so I had to be airtight in my preparation."
Specifically, Tannenbaum expressed concern about the distance between his home in South Florida, his work in central Connecticut and his fledgling team in western Massachusetts, and how that might negatively affect their ability to communicate. "They were like, 'No problem, we'll set up a Slack channel,'" Tannenbaum recalls. "I nodded [so as] to not embarrass myself. Then I got in the car and called my wife and asked whether she'd ever heard of Slack. She and my two teenagers laughed at me."
As Tannenbaum soon learned through The 33rd Team, which officially launched as a company in September 2021, his ignorance was understandable. "It's easy to get out of touch, because [on NFL teams] you have so many people to help," he says. Perhaps a coach once accustomed to an assistant always running the meeting-room projector now suddenly must navigate delivering a PowerPoint over Zoom. Or maybe a discussion is sparked about the advantages of sending players game-plan installations over their Instagram or TikTok accounts. "The really smart ones, they want to know how the 20-year-olds today are consuming information," Tannenbaum says.
But the absolute best way that The 33rd Team assists on the technological front is through its internship program, which pairs a college student with each of these football lifers to effectively serve as their personal research assistant. "Sometimes it's trends, like, How are the top-five teams on defense built, how big are they and where's their salary cap money being spent?" Tannenbaum says. "Sometimes it's just having another pair of hands to set the discussion, like, Who are the last five first-round defensive players that didn't work out? Give me that list." But occasionally the interns are enlisted for bigger projects, like when, Tannenbaum says, "Quinn wanted to do a deep dive on his defensive philosophy" in between his firing by the Falcons in October 2020 and his hiring by the Cowboys in January '21.
All members of The 33rd Team, no matter their role, gain logins to a trove of online databases similar to what any front-office analytics staff would have, including All-22 film, Pro Football Focus, Sports Information Solutions and TruMedia. But often it's simply smoother for everyone involved if the younger generation leads the way here, as whenever Lewis asks his intern, Harvard law student Alexander Amir, to dig up data for the podcast that Lewis and Zimmer cohost on The 33rd Team's network. "I can watch the tape, and I can see that a team sucks on third down, but Alex will send me the stats to back it up," Lewis says. "I could access the stats [myself], but it would probably take me a little longer."
Others give themselves even less credit. "This morning, sitting here in Missoula, Montana, I wanted to find out how many teams had three quarterbacks on their rosters," says Mornhinweg, who then relayed that request to intern Charlie Parkinson, a senior defensive lineman at Amherst (Mass.) College. "He goes to a website and gets that taken care of. And I wouldn't even know how to get on the website."
This season, according to a spokesperson, The 33rd Team has 25 interns, hailing from schools such as Columbia, Michigan, Tulane and, of course, UMass. (Tannenbaum says he "continues to speak with HBCUs and junior colleges" about expanding the program's reach, especially to diverse communities, and hopes "to have something formal with them in the coming weeks.") Each intern receives a stipend or credit, but the biggest draws are undeniably the access—on top of the Wednesday meetings and Friday draft calls, an intern-only gathering takes place every Thursday featuring Banner, Polian and other guests speaking on subjects ranging from salary cap management to roster construction—and the experience.
"One of the most validating calls that I got was from [former Cardinals GM] Steve Keim, who had an opening in the personnel department, and the two finalists were two guys that interned from us," Tannenbaum says. "They hired both of them." Tannenbaum also takes pride in the story of Caroline Videtto, a former UMass softball player who spent the season as a personnel operations intern in the Jets' scouting department. "That's an example of where we're at our best," Tannenbaum says.
Parkinson, for his part, joined The 33rd Team in June 2021 after cold-emailing Tannenbaum in search of a pathway to such a professional opportunity. Now he is on a regular texting basis with a pair of Super Bowl–champion coaches in his assigned "talent," Mornhinweg and Martz. "They'll reach out to me if they need help with something," Parkinson, 21, says. "But I can also text them about the games on TV. It's a pretty special experience. … There's very few undergraduate opportunities in the league, especially in player personnel. This is 100% something you throw on our résumé, and it should hold almost as much value as working on a team. We have day-to-day operations. Everyone plays a role."
Like Tannenbaum, though, Parkinson gets as much from eavesdropping on The 33rd Team meetings as he does from his hands-on work. "Getting to listen to guys who have done so much in the business is super cool," he says. "Anything Bill Polian says, your ears are going to prick up." But the absolute "coolest" genre of speakers, Parkinson says, is that of "the coaches who lose their jobs and join because they want to get back, and then they're coaching on Sundays the next year." For example: "After Doug Pederson got fired by the Eagles, he was one of the main speakers on almost every call."
To Pederson, the engagements were transactional in a purely—and pleasingly—educational sense. "I didn't do a bunch of deep dives, but when you got around the [2021] draft, around free agency, I did some studies breaking down the young quarterbacks coming out and some other skill-position players," says Pederson, who was aided in his research endeavors by Hanson, one of Tannenbaum's original 33rd Team partners. "Then, as I prepared for the interview process with NFL clubs, looking into how their rosters are made up and doing some studies on personnel really helped me."
Even after he was hired by the Jaguars and stopped attending calls, certain lessons followed Pederson to his new gig in Jacksonville, setting the tone for a season that eventually saw the franchise win both its first divisional title and first playoff game since 2017. "Spending time with trainers and doctors on those calls, there's a lot of data out there when it comes to injuries and training camp," he says. "I wanted to do something that I hadn't in the past, which was extra conditioning after practice for the first eight to ten days, that ramp-in phase. I wanted to make sure their legs were in good condition once we put the pads on, and [because] when you get through about eight days, you start seeing the soft tissue injuries creep into your team."
So, now that he is back patrolling an NFL sideline, what advice would Pederson give to a fellow NFL coach who finds himself out of work and wondering what to do while waiting for a chance to get back? "One, I'd say, if you really want to get away, you need to recharge and refresh and formulate a plan," he says. "Then I'd definitely plug into The 33rd Team."