After two weeks, we have a little more to go on. But still, not enough to draw too many conclusions. That said, here's what I'm taking away from a white-knuckle Sunday in the NFL, in my Ten Takeaways for Week 2 …
The AFC North is the toughest division in the league. And I'll say that even with the shiner the San Francisco All-Star team put on the Steelers eight days ago.
The Ravens-Bengals game is a great example of why. And the perfect picture was drawn with Baltimore's finish.
The Bengals' offense finally started to shake its early-season slump in the second half of Sunday's intra-division showdown, with Joe Burrow piloting a 13-play, 75-yard drive to finish the third quarter, then putting together a 16-play, 80-yard drive in the fourth quarter to cut the Baltimore lead to 27–24 with 3:28 left. With two timeouts left, that put Cincinnati in position to get the ball back.
Until, that is, the Ravens made sure the Bengals wouldn't, slamming the door shut with six runs that chewed up 33 yards and stamped this as a vintage Baltimore win.
"That felt great," quarterback Lamar Jackson told me, over the cell as he boarded the team's bus for the airport. "That was finally pulling off a game with the offense being on the field. The defense did a great job. All three phases did great today."
In so many ways, a remember me-type of win for the Ravens should serve to make everyone remember that the AFC North is going to make it hard for the Bengals to reach the rarified air they've lived in for the last two years. And just as Baltimore showed Cincinnati on Sunday, the Browns did the week before, with Jim Schwartz fueling a defensive rival in Cleveland that started this two-game slide for Cincy. The Steelers are still hanging around, even after last week's events, too.
So does all this make the Ravens the favorite? Maybe it does. The Ravens, as Jackson said, really did beat the Bengals every which way. They rushed for 178 yards on 37 carries. In his second game under new coordinator Todd Monken, Jackson threw for 237 yards and a 112.8 passer rating, leading an offense that converted 9-of-14 third downs. The defense held the Bengals to 282 yards and registered a pick that the offense turned into a touchdown.
The special teams were shakier, allowing an 81-yard punt return touchdown (and Justin Tucker, believe it or not, missed a long field goal). But with John Harbaugh around, it's hard to imagine that won't be cleaned up before too long.
And a couple scuffling moments in that phase didn't make this any less of a signature win.
It's something that Jackson summed up simply, when I asked him whether that final sequence, through which the Ravens ran it when the Bengals knew they were running, was a good example of this version of Baltimore's living up to old standards.
"The toughness has been there," he said. "Obviously."
So much so that now, just two weeks into the season, the Ravens may have simultaneously stamped themselves the favorite in the AFC North, and the North as the NFL's best division.
The Browns and Steelers could bring more validation of Monday tonight.
---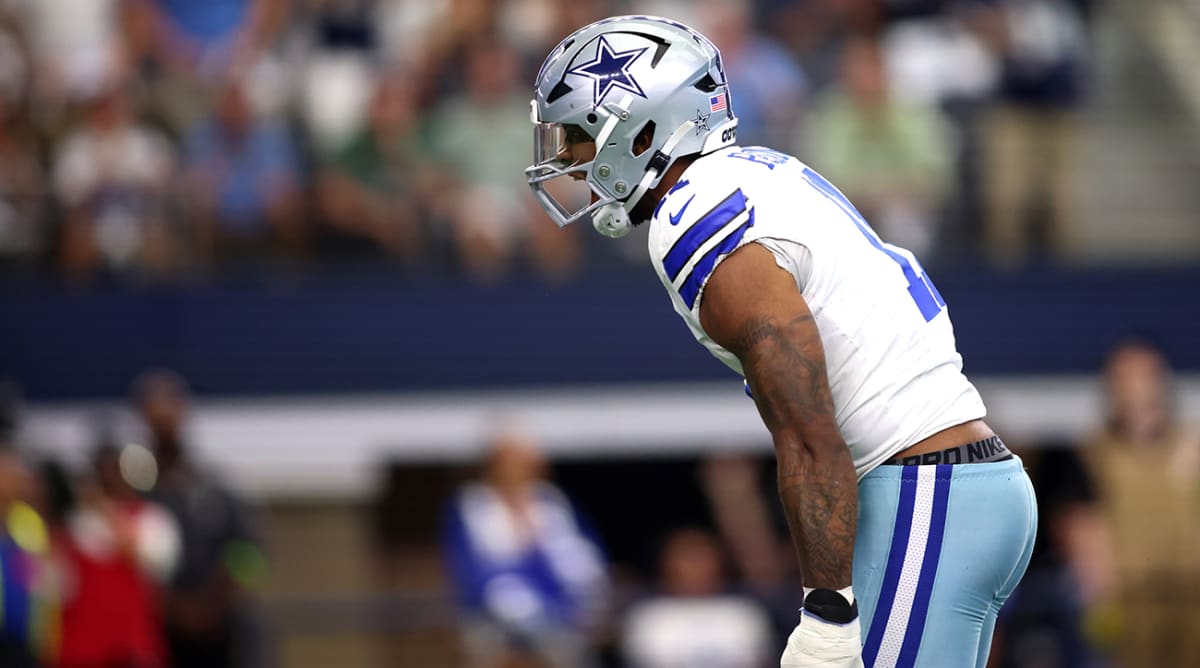 The Cowboys' defense is no joke. Because being the quarterback in Dallas is like being the shortstop at Yankee Stadium, all the talk shows Monday morning will probably argue whether Dak Prescott is back, and that's fine. For the record, through two games, after a lot of summer hand-wringing over camp interceptions, he's got a 98.7 passer rating, and was lights out against one of the NFL's best defenses Sunday.
But that's not the story of Dallas's Secretariat-out-of-the-gate start to 2023. The defense is. Here are the two performances Dan Quinn's starry unit has put together …
• Week 1: They shut out the Giants, holding New York to 171 yards from scrimmage and 2.6 yards per play, while posting seven sacks and forcing three turnovers. The Giants failed to pick up a first down on half of their 12 possessions. They only crossed midfield twice.
• Week 2: They allowed 215 yards and 4.7 yards per play against the Jets, but those numbers dip to 138 yards and 3.1 if you take away Garrett Wilson's 77-yard catch-and-run touchdown. They wound up with another three sacks and four forced turnovers (all in the second half).
"Most definitely, it's been the best group I've been a part of—hands down," 10th-year defensive end DeMarcus Lawrence told me from the victorious locker room. "We're just clicking on all cylinders. The D-line, linebackers to the DBs, we trust each other so much, that if I don't make a play, the next man is going to make it. That's how we living. And you see the results from it."
The results, of course, were born of a number of things.
One is the fact that Quinn is still there, after pulling his name from head-coach consideration in consecutive offseasons, something that's allowed the DC to continue to tweak, adjust and hone his scheme—one that's veered far from the Seattle-styled Cover 3 he came up on—for his players. It also, as Lawrence pointed out, has allowed Dallas "to bring in the types of DBs that we need in here, and the D-line for us to rush and cover."
"It means a lot that he would sacrifice his career for all of our goals at hand," Lawrence says. "Hats off to him. I salute him for that because a lot of men wouldn't do that. I think that goes out to the belief that DQ has for this group, the way that we've been battling over the last years. We understand what kind of group we have. We have more to give."
And two, there's little else they could ask of Micah Parsons, who is as unique a defensive player as has entered the league in years.
He filled the stat sheet Sunday, with four tackles, three for losses, two sacks, four quarterback hits, a pass defensed, a forced fumble and a fumble recovery. Yet, somehow, all of that doesn't really fully bring to life what he does for Dallas and to an opponent (this clip might give you an idea).
I asked Lawrence, after all that, whether he's ever seen a player like Parsons, who's sometimes his bookend on the edge, other times behind him at linebacker and always a menace. "No," Lawrence says. "I'm glad he's on my team." And that's plainly because he's different than everyone else, which gives the rest of a talented defense a great starting point on every snap.
"Number one, his speed; but number two, his attitude, how he approaches the game over the years, how he picks up on the game and learns. He's just that one-of-one player you probably see every 20 years," Lawrence says. "Hats off to him. Micah, if you read this, Keep going. Don't never stop. I'm proud of you."
It's early, but the whole defense already has plenty to be proud of. And build off.
---
The demise of the Bills was greatly exaggerated. But that realization didn't come without some tense moments for Buffalo on Sunday.
After a 16–13 loss Monday night in Week 1 that led to a lot of Chicken Littles emerging from the coup, the Bills stumbled from the gates Sunday afternoon, looking more like the team playing a 10 a.m. body clock game than their visitors from Las Vegas did. The Raiders tore down the field on the game's opening drive, covering 75 yards in five plays, then forced Josh Allen and the Buffalo offense into a three-and-out.
There were, for sure, a lot of nervous folks at Highmark Stadium.
Sean McDermott wasn't one of them. And he actually wasn't one of them because of something he saw from his team during the week in a place where you might not expect it.
"Honestly, Thursday's practice was really strong from the standpoint of the scout team," McDermott said over his cell, from his stadium office postgame. "They were competing hard, and I appreciate that. That's important, that you can do that."
As McDermott sees it, those are things that show engagement—if there's competition in practice, both from the guys who'll play Sunday and those who won't, then anything happening on the outside (and we're going to cover all that on the site on Monday) becomes less relevant, mostly because it's a sign that a team's focus is where it should be.
And Buffalo showed, after that rugged start, that its focus was.
McDermott would fall on the sword for the defense's first series ("I didn't do a good enough job of putting the guys in the position"), and then wouldn't have to again for a while. New starting middle linebacker Terrel Bernard, Tremaine Edmunds's replacement, came up with a game-turning interception after that three-and-out from the offense. And from there, the Bills' defense held the Raiders' offense to 151 yards and nine first downs.
Meanwhile, Josh Allen—whom some foolishly figured would morph back into his 2019 self—and the offense's remaining possessions ended like this: touchdown, touchdown, turnover on downs on the Vegas 1, touchdown, touchdown, field goal, touchdown, kneeldowns.
Allen had a 124.5 passer rating. Stefon Diggs (7 catches, 66 yards) led the team in receptions. James Cook rushed for 123 yards. The defensive front harassed Jimmy Garoppolo, Matt Milano had a pick and, well, just about everything worked out. Just as the guys who really count, the ones in the building, figured it would.
Even if McDermott, in an honest moment, would tell you he wanted to see this sort of result first, before saying those encouraging signs from a tumultuous practice week really meant something.
"They set their mind. Their mind was right," McDermott continues. "Nobody likes to lose. It's a new team still. I know it's been seven years, but it's a new team. New players. New staff. Now, they're trying to learn how to come together and grow, and find a way to win a game every week. And I think that's really where we're at."
The Bills get the Commanders next week, and then have a big one in Buffalo against the team now leading the division they've won three years running. Speaking of those guys …
---
The Dolphins' win over the Patriots was an interesting data point in the nature vs. nurture argument on quarterbacks. Tua Tagovailoa and Mac Jones came from the same Alabama program. They both played for Steve Sarkisian. They both threw to DeVonta Smith, Jaylen Waddle, Henry Ruggs III and Jerry Jeudy (though the latter two left before Jones's final year in school), and behind the Tide's massive, talent-rich offensive lines.
So for a TV segment this weekend up in New England, I sought out the opinions of a few execs who've been on the college scouting side, and have strong ties to the Alabama program, to try to compare and contrast the two. One answer I got back was pretty interesting.
"I feel like what Miami put around Tua is very similar to what they both had at Alabama," says this particular NFC executive. "And at Bama, you see what they were able to do. Mac is the complete opposite: He did benefit with the weapons, so the question was if he could elevate people around him. And [because of what's around him], we still don't know. I feel like there'd be similar results if the roles were reversed. Mac would have similar results in that offense, in Miami."
Tagovailoa's Dolphins beat Jones's Patriots in a 24–17 thriller Sunday night.
And as it was happening, the execs' words rang true to me, and that's a pretty jarring thing. That Miami has now become the superior quarterbacking incubator to the place that drafted and developed Tom Brady, then reared a bunch of backups (Matt Cassel, Brian Hoyer, Ryan Mallett, Garoppolo, Jacoby Brissett) who'd go on to start elsewhere and have long careers.
But it's also reality. The numbers that the two former-teammates posted Sunday were relatively similar, separated by less than eight points in passer rating. Thing is, if you watched the game, you saw the difference. Where Tagvailoa was using the threat of Tyreek Hill to move the chains underneath with him, and pop big plays downfield to Waddle and Braxton Berrios, Jones was throwing a pick on a throw too far inside to a covered DeVante Parker. Where the run game gave Tagovailoa a vital 43-yard touchdown, scored by Raheem Mostert, Jones was relying on a guard to move the chains on a lateral on the Patriots' final offensive play (not an exaggeration).
The fallout from here is that if Tagovailoa stays healthy (a big if, I know), the Dolphins have built in a way where they should have answers on their quarterback coming out of this year—and he was electric in the first half in Foxborough. Meanwhile, it's easy to see where the Patriots might have a harder time making decisions, like the one coming on Jones's fifth-year option after 2023. Which was apparent in another good-just-not-quite-good-enough performance from the once mighty Patriots.
---
I think what the Giants pulled off Sunday isn't easy, regardless of the opponent. No, the Cardinals aren't any good, and won't be any good, to the point where they might well be the winners of the Caleb Williams sweepstakes in April. So on one hand, the Giants should be pretty disappointed they fell behind 20–0 to Arizona in the first place..
On the other hand, all that did set the stage for this particular group of Giants to learn about themselves.
"We're tough, we're a resilient team," Daniel Jones told me from the winning locker room. "We got a lot of playmakers across the field who can step up and produce. So, we got a lot of trust and grit—trust in one another and a lot of tough-minded guys."
They just hadn't shown it through six quarters. In fact, after going 9-7-1 and advancing a round in the playoffs in 2022, the franchise's first with Brian Daboll at the helm, it'd be hard not to see the team's opening game and a half start as anything but a disaster—they'd been beaten 60–0 by Dallas and Arizona to that point.
"I mean, obviously, we weren't happy with where we were," Jones says. "And there was a strong sense of urgency to get it right and get it corrected and kind of attack the opportunities we're gonna have in the second half. And we trusted it. We knew that if we had those opportunities again, we just needed to execute them and take advantage of the plays that were there.
"And we did that."
The best example came on the first play of the second half, when Daboll called a pass concept that'd take advantage of rookie receiver Jalin Hyatt's speed, after Jones admittedly missed on a chance to do that in the first half. The 58-yard catch to the post was the first of the second-rounder's career, and one Jones later said worked to jar things loose.
"It did loosen things up and get us going," the quarterback says. "It gave us some confidence. But it was the start and there were a number of plays that needed to be made after that to continue to keep going, and guys stepped up and made those plays."
And maybe that's the most encouraging thing about what followed through the furious comeback from 20–0 and 28–7 deficits—after that, the Giants went on long touchdown drives of 12, 13, and six plays, drives that required Jones and his group to be patient, and convert third downs, and not overreach to close a massive deficit too quickly. The game-winning drive took another eight plays, eventually setting up Graham Gano for a 34-yard field goal to give the Giants their first lead, and the lead for good.
It'd be over 19 seconds later.
And while the way all this played out hardly should send people in New York to book travel for Vegas in February, the Giants should have something to play for again. Which is better than the alternative.
---
The Buccaneers' 2–0 start doesn't feel like a mirage. After a clutch, gritty win in Minnesota, Tampa's home opener came Sunday to far less fanfare than the Bucs would've attracted the last three years. And that, it seems, is fine by the players.
Baker Mayfield (317 yards, 114.5 passer rating) was good, the run game (120 yards) was, too, as was Mike Evans (6 catches, 171 yards, TD). And the defense sacked Justin Fields six times, finishing him and the Bears off with a pick-six thrown right at Shaq Barrett with less than three minutes left.
All of which should illustrate the edge with which the Bucs are playing now, with a lot of prideful guys out to show everyone that the operation there was a lot more than just Tom Brady.
"We've got a great culture here," Barrett told me postgame. "There's people who have been around for a while, been on a championship team. So we know what the standard is, and the standard is standard. It don't change for nobody. When our new guys come in, they fall right into the standard of how we're supposed to play, how we're supposed to act. So it just makes it an easy transition for them and it makes it easier for us as a unit so that we can have high expectations no matter [who is playing].
"If you got Izzy [Christian Izien] coming in as an undrafted rookie producing, or like YaYa [Diaby] coming in producing, then the standard is the standard. Drafted, undrafted, it doesn't matter when you came to this team, we maintain the standard around here. We have been trying to do that for the first couple of weeks and just trying to keep it going now."
Along the way, they've also found a perfect quarterback for the no-one-believes-in-us ethos of the team, in Baker Mayfield, who's been every bit the baller he was at his best at both Oklahoma and as a Brown, and both with his arm and his legs.
"He fits the mold, for sure," says Barrett.
So can they win without Brady? Look at the roster, and you'll see Barrett, Evans, Devin White, Lavonte David, Antoine Winfield Jr., Tristan Wirfs, Carlton Davis III, Chris Godwin and, well, you get the picture. Yes, there's enough to win without Brady, especially if Mayfield keeps playing this way, and especially in a winnable division.
Just ask Barrett—or any of those other guys.
---
I'll have a lot more on the site Monday about the Seahawks' bounceback, but I did want to give you Pete Carroll's feelings on a dramatic win in Detroit (for a second straight year). Because what stood out to me as he and I talked postgame is how this really has become, believe it or not, a measuring-stick game for his group.
Seattle survived to tell the story of a 37–31 overtime victory, and it meant more for the Seahawks not just because of the similarly dramatic game they were a part of at Ford Field in 2022, but also because of what the Lions are becoming. So that the Seahawks were able to win ain keyed-up environment in Detroit means a lot more than maybe it would've five or 10 years ago for a team that was coming off a crushing Week 1 defeat (to the Rams), and is still harboring very big goals.
For Carroll, it goes back to being able to respond regardless of environment, and the Seahawks' coach knew Dan Campbell's crew was going to give him a challenging one.
"Whether it was on the road or at home, it didn't matter," Carroll said over the phone. "And that's what we always have talked about—for years. And those 10 o'clockers are always ones that we take great pride in. And we did it again. And so it's the Lions, coming off [a win over] K.C. on the road. And with Barry Sanders [honored] and all, it was nuts. It was just such a great opportunity to prove what we talked about and what we believe in, and we came out here and found a way to get it done."
Maybe best of all for Carroll was how his Seahawks kept answering Detroit's body blows with one unit lifting another up—the defense scored (on a Tre Brown pick-six) and set up short fields for the offense with a fumble recovery (forced by Uchenna Nwosu) and fourth-down stop, and Geno Smith bounced back from a bad sack taken at the end of regulation with a nine-play, 75-yard drive to win the game in overtime.
But just as good, for the coach and his team, is how they were able to beat a tough, physical, playoff-caliber team that reflects, in so many ways, how their own program is constructed.
"I love coaches that can affect the team like Coach Campbell has," Carroll says. "He's changed this program. He's given them life, and the mentality and the approach. I have tremendous respect for the guys that can get that done, when it's obvious. That particular one is really hard, and you got to build and make it. He's done that and so we take a lot out of the fact that we got them.
"They're on the frickin' rise and they're flying and we're fortunate enough to get out of here with a win."
And to me, it really sounded like a guy who thinks he might see those Lions again.
Which, even in defeat, is another sign of how far Detroit has come.
---
We should give Ron Rivera some credit. The Commanders survived a scare from the Cardinals in Week 1—and after seeing how Arizona threw a similar fright into the Giants this week, that certainly counts for something. To follow that up this week with a comeback from a 21–3 deficit against the Broncos, and to survive a completed Hail Mary by stopping the ensuing two-point conversion to get through with a 35–33 win is, well, a whole lot more than nothing.
Washington is 2–0, and I get why people aren't quite ready to pay too much attention yet.
That said, much of Rivera's roster has had a lot lifted off it over the last few months with the team sold by the much-maligned (and justifiably so) Dan Snyder to Sixers and Devils owner Josh Harris, completing a process that's hung over the franchise since Rivera arrived in 2020. So maybe no one should be surprised to see the guys ride out the rough start they did Sunday against a talented Denver team coming off a one-point Week 1 loss.
"They're very resilient," Rivera told me as he boarded the plane to head back to D.C. "I really have [seen it]. You watch the way that today unfolded and both games that we've played so far, we've had to come back. We've had to do something. It also just shows how opportunistic they are in the way that they came back and made plays off the plays that they made earlier."
Which means now, as Rivera sees it, "We've got some momentum built early, instead of having to build momentum in the middle of the season like we've done the last few years."
I don't know whether, over the long haul, the Commanders have the horses to race with the Eagles, Cowboys and Giants.
But I do know that they've got a really good offensive skill group, a loaded defensive line, an improved offensive line and a quarterback, in Sam Howell, who's a little better than most people realize. And all those guys are pretty unified behind their coach—as the impromptu celebration in the locker room of his 100th victory on Sunday showed.
At the very least, he's giving Harris plenty to think about.
---
I think this is a massive week for the Jets. I don't like throwing around the term "must win" in September, and the Jets' season certainly wouldn't be over if they lost to the 0–2 Patriots Sunday.
That said, the team's Twitter fingers (sorry, X) didn't spell out much encouragement in the aftermath of Sunday's blowout loss in Dallas. First, you had second-year back Breece Hall tweeting out four football emojis, seemingly indicative of the four touches he got in the loss to the Cowboys. Then, you had star corner Sauce Gardner firing back at someone who tweeted out CeeDee Lamb's stat line, basically saying that none of it came while he was covering Lamb, before deciding to delete his account altogether.
Now, sometimes I wish I could delete my account, so I'll be the first to say it's dumb to make sweeping judgments based off social media activity. The trouble here, as I see it, is how both posts seem designed to pass off blame for what happened Sunday on someone else, and at a time, after a major quarterback injury, when wagons need to be circled.
For his part, Robert Saleh did address the idea that Sunday's defeat could be more than just a one-off, in telling the media, "It won't snowball. It's not going to snowball. Dallas played a really freaking good game and that's a good football team, too."
The Cowboys are. I think the Jets, even without Aaron Rodgers, can be, too.
But based on what we saw postgame, this is shaping up to be a pretty important week, if they're going to be able to prove that in 2023—and make Rodgers's attempt at a furious comeback from Achilles surgery become something more than just some mid-September headline. And not let this, to borrow Saleh's word, snowball any further than it did Sunday.
---
We've got your quick-hitters right here. And we've got them right now …
• It was a damn shame seeing Anthony Richardson go down. I really loved what the Colts were doing with him schematically. His two touchdown runs Sunday (he suffered the concussion on the second of them) both showed what sort of freak athlete he is to me, in how it looked like he was barely running on either of them, as he glided by defenders.
• Shane Steichen's staff did adjust when Gardner Minshew entered the 31–20 win over Houston, but only in one phase of the offense—they kept the passing game static while flipping the run game upside down a bit. For that reason, it's a pretty nice tribute to Steichen that Indy, behind Zack Moss, was able to run the ball effectively after the fourth pick of the 2023 draft went down.
• Chris Jones is still really good at football, and Travis Kelce is too. The former finished Sunday with 1.5 sacks and a pass defensed. The latter had four catches for 26 yards and a touchdown. And the Chiefs fought through some early issues (between the second half against Detroit and the first half Sunday, they nearly went four quarters without a touchdown) to get past the Jaguars, 17–9, in some pretty oppressive heat and humidity in Jacksonville.
• That Jaguars team is still really good. And I think we'll look back and say Calvin Ridley was the steal of the last year. He made another catch Sunday that shows why he was a first-round pick in the first place.
• Good win for the Titans. Worse loss for the Chargers. What's really bothersome to me is how that defense effectively took nothing away from Tennessee—allowing 141 yards on the ground, and for Ryan Tannehill to have a near-flawless day throwing the ball.
• Still, even in a retooling year, that was a sign Mike Vrabel's team will always be a tough out.
• We're going to do more on the Falcons soon; I promise. For now, remember I told you last year to pay attention to Atlanta's run game, which had dominated early in the 2022 season. Between Bijan Robinson, Tyler Allgeier and Desmond Ridder, Atlanta churned out 211 yards on 45 carries in a tight win over the Packers to get to 2–0.
• I also will say I liked how Arthur Smith's fourth-down decision-making wasn't hard and fast. On the team's game-winning drive, he went for one fourth-and-1 from the Packers' 23, converting with seven yards on a pitch to Robinson. Four plays later, on fourth-and-1 from the Green Bay 7, he lined Younghoe Koo for the 25-yard game-winner with 1:01 left. See, what annoys me is when a guy is so set in his ways that he always does one thing or another. Smith, clearly, isn't like that, and his feel for when to pull the trigger, and when not to, put the Falcons in great position to close out the Packers Sunday.
• I think more people will be talking about the Saints after Monday tonight.
• And finally, courtesy of my editor extraordinaire, Mitch Goldich, I present you this jarring stat: The NFC is currently 6–0 against the AFC, after wins by Dallas (over the Jets) and Washington (over Denver) in Week 2. Which, of course, is just how we all expected things to go.