Our tale of winter woe in the commonwealth of Kentucky actually begins outside state lines. It begins just across the Ohio River from Louisville, in Clarksville, Ind., at a boxy building along Eastern Boulevard's gritty business strip. It begins at Winner's Circle Race Sports Pub.
With no legal sports wagering other than horse racing in Kentucky, the parking lot at Winner's Circle is populated by license plates from the south side of the river. Business is fairly slow on a weekday afternoon, other than the people monitoring the feeds from race tracks across the country. "Dig in, Seven!" one man bellows at a TV screen showing a race from Mahoning Valley, a racino in Youngstown, Ohio. "Dig in!" Judging from the silence that follows the stretch run, the No. 7 horse did not sufficiently dig in.
At night, when the college basketball schedule tips off, business picks up appreciably. "If there were rabbits playing basketball and there was a line on it," says daytime manager Monte Mattingly, "people would bet it."
On days when the Louisville Cardinals play just 3.5 miles away at the KFC Yum! Center, their fans stream into Winner's Circle to place bets—against their team. Mattingly estimated that wagers this season have run from 80% to 85% against Louisville. "They're wearing their Louisville stuff and betting against Louisville," he says.
It's come to this for a fan base that lives and dies with the Cardinals: mitigating its misery by trying to turn a consolation profit. From the moment Louisville lost an exhibition game by 10 points against a Division II opponent Oct. 30, appalled fans realized what Las Vegas did not—their favorite team is absolutely awful.
The Cards are a brutal 2–17 overall, 5-13-1 against the spread. They failed to come close to covering in their first nine games of the season, when the betting lines were wildly off. It took oddsmakers a month to wrap their minds—and their line-setting algorithms—around a blueblood program plummeting to a historic low.
But this crash is not solely a Louisville problem within the commonwealth. The possibility exists that none of the seven Division I men's basketball programs from the state of Kentucky will make the 68-team NCAA tournament. Last time they held the Big Dance without the commonwealth, it was a little dance of 25 teams. The year was 1963.
The state is staring at a once-in-60-years basketball calamity.
Seventy-five miles east on Interstate 64, in Lexington, Kentucky's fan base has gone from cocky to shocked to furious to a renewed flicker of hope. It has taken a current three-game winning streak to get the Wildcats (13–6, 4–3 in the Southeastern Conference) on the right side of the NCAA tournament bubble in many mock brackets, and just barely. No one in Big Blue Nation expected a team that began the season No. 1 in the Pomeroy Ratings and No. 4 in the AP Top 25 to currently be outside the top 30 in the former and unranked in the latter.
The other schools are in flux, at best. Western Kentucky, which entered the season in the top 15 in all-time victories, has flailed to an 11–9 record (3–6 in conference play) with coach Rick Stansbury missing nearly half the season thus far for health reasons. Murray State, a perennial mid-major power, is finding the adjustment to the Missouri Valley Conference rather challenging—the Racers are 11–9 overall and 6–4 in the league. Morehead State (12–9) hasn't taken advantage of the defection of several programs from the Ohio Valley Conference. A season removed from winning the Atlantic Sun Conference tournament, Bellarmine (9–12) is rebuilding. The only two teams currently in solid contention for their conference regular-season titles are Northern Kentucky (12–8, 8–2 and tied for first in the Horizon League) and Eastern Kentucky (13–8, 6–2 in the A-Sun).
The state hasn't been shut out of the tournament since 1963 for a reason—people within it care too much. More than any other state, in fact. Indiana and North Carolina are deeply invested, but they also have professional sports franchises. For better or worse, college basketball is pro basketball in Kentucky, and has been for decades.
Basketball has been baked into the culture for about a century. It is the state's bonding element during the gray months when midwestern winter creeps below the Mason-Dixon Line. Social calendars and family functions revolve around tipoff times. The gyms are cathedrals that call the faithful to regularly scheduled reverence.
Kentucky has the second-biggest arena in college basketball, with a listed capacity of 23,000. Louisville is third (22,090). When both are playing at home on the same day and the seats are full, as they used to be during happier times, roughly one percent of the state's population of 4.5 million is in attendance.
When the teams aren't playing home games, the fans are glued to their TV sets. The city of Louisville is to college basketball Nielsen Ratings what Birmingham is to college football—the annual national leader by a wide margin. In 2017, for example, when Louisville was ESPN's highest-rated market for college hoops for the 15th straight year, its average viewership more than doubled runner-up Raleigh-Durham and third-place Kansas City.
That rabid populace has demanded excellence from its teams and reliably gotten it. Only UCLA has won more than Kentucky's eight national championships. Louisville is one of just nine programs to have won three or more titles (give or take the 2013 crown the NCAA vacated for rules violations). The Wildcats, Cardinals and Western Kentucky have combined for 28 Final Fours (with a couple of those by Louisville vacated, as well). The state's D-I programs have made a total of 162 appearances in the history of the tourney.
Seeing multiple teams from the commonwealth in the bracket has been a Selection Sunday tradition spanning the majority of the citizenry's lifetime. And now, that annual rite is stunningly uncertain.
"It's unthinkably bad," says Rick Bozich of WDRB.com in Louisville, a veteran of more than 40 years covering college basketball in the state. "I didn't think they could have an NCAA Tournament without any teams from Kentucky."
---
Our tale of winter woe continues in downtown Louisville, a battleground city where fans of the Cardinals and Wildcats together occupy bar stools and car pools. The town is more red than blue, and the epicenter of Louisville loyalty is the 12-year-old Yum! Center downtown.
Beers in hand at the bar on the mezzanine level of the concourse, Sean and Caroline Deeley took turns lamenting over the state of their beloved Louisville Cardinals. It was halftime of a game last week against Pittsburgh, and the Cards were losing as usual, on their way to a 21-point defeat. The lackluster performance in front of a lackluster crowd has become all too familiar to the father and daughter who have invested a lot, monetarily and emotionally, into the scandal-scarred program.
"When Louisville lost, it used to ruin my day," says Caroline, 26. "Now I'm numb. I don't even care to involve them in my life. I want my day to be ruined by a Louisville basketball loss, because it's so rare. It's just sad. It's horrible."
Says Sean, who grew up going to games at Freedom Hall with his father and brothers: "I've been here since 1976 and I've never seen anything close to this. It's the same rinse-and-repeat result. My fear is that people who give a lot of money say, 'I'm out; I'm done.' It's very hard to get them back. You lose enough of those people, and it's over."
If Louisville loses the Deeleys, it's in trouble. This is a family that has a pair of Sean's khaki pants festooned with Cardinal heads framed and mounted at home, the britches having served as a good-luck talisman during the program's 2013 title run. In less scandalous times, the family had a life-size cutout of former coach Rick Pitino in their basement, which has been the site of many watch parties over the years. Those gatherings rarely end without Caroline cuing up and narrating highlights of the '13 championship game victory against Michigan.
Owning season tickets for football and men's basketball, Sean, Caroline and Stephanie (Sean's wife and Caroline's mom) have traveled to innumerable tournaments and bowl games, including a long-planned, four-person junket to cheer on the Cardinals in the Maui Invitational this past November. The beach was great. The basketball was ghastly. Louisville was blown out in succession by Arkansas, Texas Tech and Cincinnati. Average margin of defeat in those games: 25.7 points.
"You spend 10 grand to go to Maui and you'd like to see something—play hard, maybe win one game," Sean says. "But to get blown out of every single game? By halftime?"
It hasn't gotten any better since then, with the only victories coming over Western Kentucky and Florida A&M. Thus a five-year downward spiral has led to this crash landing: As of Monday, Louisville ranks 296th out of 363 Division I teams in the Pomeroy Ratings—52 spots lower than the next-worst team from a Power 6 conference (South Carolina) and 109 spots lower than the next-worst team from the Atlantic Coast Conference (Boston College).
In the 22-season history of the Pomeroy Ratings, only one school from a power conference has finished the year lower than Louisville's current ranking—Pac-12 member Utah was 302nd in 2011–12. The once-mighty Cardinals aren't just terrible; they're historically terrible.
"I'm not familiar with this world," says Drew Deener, host of a popular morning sports talk show on 93.9 The Ville, which has broadcast rights to Louisville games. "I don't even know how to talk about this."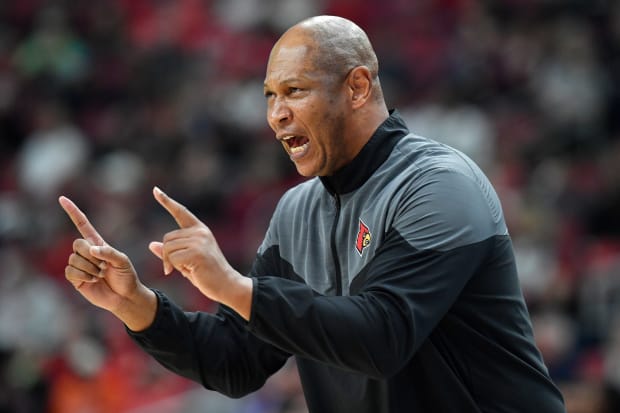 There is a long backstory that leads to this glum moment. It can be traced to early October 2015, when the first basketball-related scandal rocked the program (Pitino had his own personal scandal years before that): A book authored by a Louisville madame exposed a financial arrangement she had to provide sex workers to basketball staffer Andre McGee as "entertainment" for recruits and players. It led to a major NCAA investigation, a self-imposed postseason ban for the '16 NCAA tournament and other sanctions.
Three months after that ruling was handed down in June 2017, before the sting of the sex-worker scandal had come close to wearing off, the FBI investigation of corruption in college basketball ensnared a handful of programs—among them Louisville. The Cardinals allegedly entered into an agreement to have Adidas pay $100,000 to land highly touted recruit Brian Bowen, among other impermissible benefits.
Pitino and athletic director Tom Jurich were quickly fired, largely due to the cumulative effect. Pitino ultimately was not penalized at all for the corruption scandal, after a dubious ruling was rendered in late 2022 from the NCAA's Independent Accountability Review Process, and the school escaped serious sanctions, as well. But the unraveling of the program began in earnest during that '17–18 season. Under interim coach David Padgett, the Cardinals went 22–14, narrowly missing the NCAA tournament. That led to the hiring of Xavier's Chris Mack, who was welcomed with a big contract and enthusiastic support.
Mack's tenure turned into a disaster. He had one NCAA bid and zero NCAA wins before quitting under pressure last January, and there was his own mini-scandal stemming from assistant coach Dino Gaudio trying to blackmail Mack after he was fired. But it was not without some high points. For two weeks in December 2019, Louisville was ranked No. 1 in the nation.
To have plummeted from No. 1 to No. 296 in 37 months is almost inconceivable. The cloud of scandal and threat of crushing sanctions likely played a factor in recruiting misses, but other programs ensnared in the FBI scandal (notably Arizona and Kansas) did just fine during that time. The Cardinals, meanwhile, are trying to dig a passage out of rock bottom.
First-time head coach Kenny Payne, a likable former Louisville player who replaced Mack and has become an unwitting lightning rod for a divided fan base, got the job primarily for the following reasons: his reputation as a recruiting force while working for nemesis John Calipari at Kentucky; his ties to the program's glory days under Denny Crum; and the glaring fact that an urban program with a proud Black heritage on the court and within the fan base had nothing but white coaches throughout its existence.
Heeding a groundswell of support from the Black community and former players, athletic director Josh Heird hired Payne and hoped his lack of head-coaching inexperience was surmountable. To date, it is not. Payne has so far failed to demonstrate any strategic or motivational command, raising questions about how much actual coaching he did in 10 years under Calipari. After inheriting a mess of a roster, he was unable to work a rapid makeover (unlike, say, fellow first-year coach Jerome Tang at Kansas State). The Cardinals have hit the grand slam of dysfunction: poor coaching, poor talent, poor chemistry, poor effort.
"It's not even a scrappy group that fights hard," Caroline Deeley says.
As the Cardinals submitted rather meekly against Pitt, the fans followed suit. Down 14 with 8:55 to play, a few began quietly filing out before the exodus started in earnest at the 5:00 mark. There were more shrugs than boos, a once-fiery fan base now seemingly resigned.
Announced attendance was 11,579, just more than half of capacity, but the turnstile count was assuredly lower. The upper deck could have been closed off entirely if not for a couple hundred diehards with cheaper tickets.
This is what it looks and sounds like when a blueblood goes 2–17. A program with 19 25-win seasons is now careening toward its first 25-loss campaign and its worst winning percentage since going 1–18 in 1939–40. The next two weeks may provide the last realistic chances for victory: road games against Boston College and Notre Dame (both 9–11), followed by home games against Georgia Tech (8–11) and Florida State (7–13).
"Maybe we can catch Georgia Tech in here," Sean says, with neither confidence nor enthusiasm.
The Pittsburgh loss seemed to hit the fan base harder than most. Maybe it was being blown out by a program that Louisville had handled easily in recent years. Maybe that, combined with being trounced at home by North Carolina four days earlier, dampened belief in progress. Maybe, as radio host Deener suggested, it was a combination of external factors.
"Football helped distract people," he says. "Hiring Jeff Brohm [as the new football coach] helped. Kentucky being bad helped. Those things are now over. A lot of people expected this season to be bad, but actually going through it is a different experience.
"The levee broke against Pittsburgh, and there's still two months to go. The next seven weeks are going to be nuclear winter."
Despite the results and the amount of fan unrest, not many people believe that Payne will be a one-and-done head coach. Heird voiced his support earlier this month, saying in part, "I can promise you he hasn't done one thing that has shown me that he shouldn't be our basketball coach." Others have made the point that quickly firing a Black coach who was hired ostensibly to help bring a diverse fan base back together could have the opposite effect.
Although the general expectation is that Payne is headed toward a second season on the job, any certain declarations at this point would be premature. Let's see how cold and barren the nuclear winter gets.
"I've been to every game," Bozich says. "They have gotten better, but it's just a talent gap and culture gap that they haven't fixed yet. It's going to take more time to get players in here and get it going in the right direction. The path out is to pound the portal. … [Payne has] got to get older guys who can come in and play.
"I think it would be a bad move [to change coaches]. He deserves time. It didn't get this way in one year; it took five years."
---
Our tale of winter woe ends underground, deep in the Eastern Kentucky mountains, less than 30 miles from the borders with Virginia and West Virginia. It ends where it's been said life revolves around the three C's: Christianity, coal and the Cats. This chapter brings together the latter two C's.
Three months ago, Micheal McGuire got off work at Excel Mine No. 5 outside Pikeville, Ky., and hustled straight to the town's arena. The Kentucky Wildcats were there for an intrasquad scrimmage, a rare gift for fans in Appalachia, and he was meeting his family at the game. No time to waste going home and cleaning up after another grueling day underground as a roof bolter—one of the more dangerous jobs in the industry, tasked with stabilizing the ceilings of mines against collapse.
The sight of McGuire at the game, face blackened by coal dust, resonated deeply within the state. The cultural tie between Kentucky basketball and coal country goes back decades, with Adolph Rupp recruiting several standout prospects from the region when he was at the height of his powers. "I will lift up mine eyes unto the hills, from whence cometh my help," was the Bible verse Rupp often quoted when talking about Eastern Kentucky players.
But even in a drastically changed energy economy within the state and elsewhere, the coal connection remains vital at Kentucky. The basketball players live in the Wildcat Coal Lodge, and the funding for that building was largely raised by billionaire coal magnate Joe Craft. He also has his name on the team's practice facility. (Not to be lost in all this is the fact that Craft's wife, Kelly, is a current Republican candidate for governor in Kentucky. Politics and Kentucky basketball are never widely separated.)
Playing the scrimmage in Pikeville and using it as a fundraiser for victims of severe summer flooding helped strengthen old regional and cultural bonds. The viral photos of McGuire took the event to another level. They also launched this quiet native of Beaver, Ky., who spends his days doing "very physical" work underground, on an unexpected national celebrity ride.
"I don't have the words for it," McGuire says of life since that moment. "It's hard to go out without being recognized."
The problem for Kentucky's basketball team is that the coal miner's moment served as the lone season highlight until Jan. 14, when the Wildcats stunned Tennessee in Knoxville. There were 16 games of boiling dissatisfaction between those two events.
"It's been a little bit of a rough start to the season," McGuire says, maintaining both diplomacy and optimism. (He's attending the Kansas game Saturday as a guest of the program, so this is no time for volunteering criticism.)
When 2022 National Player of the Year Oscar Tshiebwe chose to remain in school—enriched by name, image and likeness dollars—expectations soared. A high-flying August exhibition trip to the Bahamas against meager competition was breathlessly hyped as proof that the Cats were on the verge of something big. Then the actual season started, and it quickly turned into a continuation of past underachieving.
Through 15 games, Kentucky beat the bad teams (10–1 against opponents ranked outside the Pomeroy Top 50) and lost to the good ones (0–4 against the Top 50, only one of them close). Then came the 16th game, a home loss against dreadful South Carolina, a game in which the Cats never led. During the game, a fan was ejected for holding up a sign saying, "Please Go To Texas," a reference to Calipari reportedly being a candidate of interest for the vacant Longhorns job.
Plenty of fans had that guy's back. For those still trying to get over the 9–16 season in 2020-21, still angry from the epic tournament flop against No. 15 seed Saint Peter's last year, still trying to remember Cal's only national title in 2012, the South Carolina flop on Jan. 10 was a breaking point.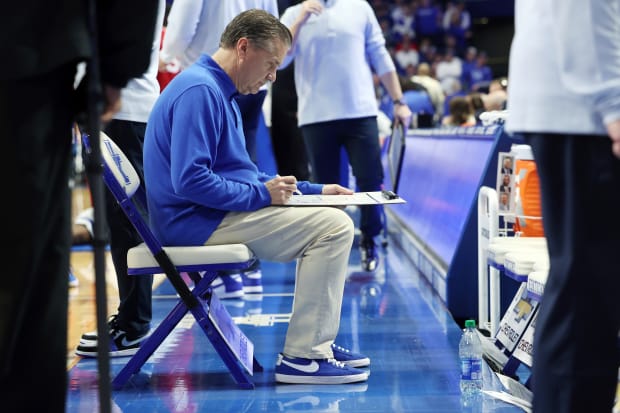 "On the criticism meter, it was at its highest point I've seen since Calipari got here," says John Clay, a columnist for the Lexington Herald-Leader. "Up until this year the biggest complaint was the one-and-done [recruiting]. You hear more about his coaching now.
"As much as Cal has been an innovator in some ways, he's been stubborn like a lot of older coaches. That stubbornness has shown this year."
As a season that began with Final Four promise has devolved into a battle just to make the field, dissatisfaction with the coach has spiked. Cal's offense is outdated. The defense is soft. This team doesn't have enough talent. He's playing the wrong lineups. The lightweight staff is even lighter in coaching weight than usual.
Meanwhile, Cal's distant and frosty relationship with athletic director Mitch Barnhart has been magnified—public disagreements about the need for a new practice facility were relitigated, with some suggesting Barnhart is sabotaging Cal by blocking funding for a facility and additional support staff. (Barnhart subsequently denied those suggestions.)
The giant problem hovering over the Calipari Fatigue is his contract. Barnhart did what so many athletic directors do (particularly in the SEC) and boxed himself into an untenable situation. He gave Cal a so-called "lifetime" contract that would require a buyout in the neighborhood of $40 million from Kentucky's side to terminate it. If Cal doesn't have somewhere to go, he's not walking away from that kind of money. So the two could be stuck with each other.
The Kentucky basketball coaching position has always been a Cadillac job and a burnout job. Between Rupp and Calipari, the average tenure for five coaches was seven years. Cal is now in his 14th season. A shameless salesman who came to the commonwealth to kick ass and sell snake oil in 2009 appeared to be all out of ass-kicking ability.
"I think their fans are, in many ways, more angry than Louisville's fans," Bozich says. "Louisville fans have been beaten down over the last few years. Kentucky fans finally have started questioning Calipari in legitimate ways that they hadn't in the past.
"I've always thought there's a finite number of years you can do that job and enjoy it, and after a point people look at you differently. You see him in postgame press conferences, he used to be kind of brash and really confident, and now he doesn't look that way. He looks like the ground has shifted underneath him."
But he might have gotten back on firmer footing in Knoxville, in one of the most breathtaking game-to-game turnarounds the Wildcats have had in their gilded history. From the low of losing at home against South Carolina to the high of beating No. 2 Tennessee on the road, the outlook changed abruptly. The momentum has continued with home wins against Georgia and Texas A&M, as Kentucky moves into a more manageable stretch of the schedule. For now, the Wildcats are an NCAA tournament team, but they have just one quality win with more than a dozen games left to play.
Calipari has pulled seasons out of the ditch before. McGuire and his wife, Mollie, believe he will do it again.
"We're going to be just fine," Mollie says.
"I believe they're going to get it going now," Michael adds. "I'd like to see them win it all again this year."
The moods of millions of Kentuckians rise and fall on the fates of their college basketball teams. This has been the winter of their discontent, with no easy paths to March.