View the original article to see embedded media.
At many college towns around the country, Learfield, the sports marketing giant, operates from small satellite offices, usually housing a team of local salespeople working from an on-campus location.
At least one of Learfield's local offices will soon have a new look.
As part of a new 15-year agreement with Alabama that it announced Tuesday, Learfield, in conjunction with the university, is creating a dedicated hub for name, image and likeness (NIL) called The Advantage Center, an epicenter for Crimson Tide athletes' NIL endeavors that the company believes is a first nationally. The Advantage Center, with a goal of opening this calendar year, will be located inside Bryant Denny Stadium and will double as the agency's local office, says Learfield CEO Cole Gahagan.
Learfield and Alabama plan to collaborate on the development of the center to provide both a physical home and a staff to educate athletes on NIL opportunities and showcase successful local and national NIL-related relationships.
In renderings provided to Sports Illustrated, the Advantage Center is expected to include a host of NIL-related features: a digital ticker announcing the latest news in athlete deals; a studio with a green screen to provide athletes a place to shoot NIL-related videos; a wall dedicated to Alabama player NIL deals and opportunities; and meeting space to possibly help facilitate brand-and-athlete relationships.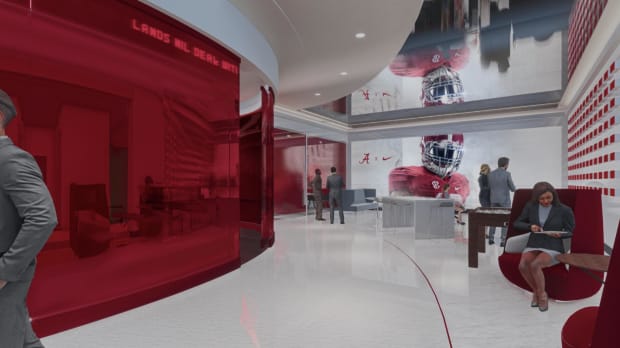 The Advantage Center will be located adjacent to The Authentic, Alabama's Fanatics retail store that provides NIL opportunities through branded licensed merchandise.
"To me, it was only a matter of time before we began to build an infrastructure around NIL. This is the next big step in that direction," Gahagan says. "There's no company better situated than ours to facilitate NIL. We are connected to over 10,000 brands nationally and locally. We are in the best position to bring those brands into the ecosystem to help create relationships between companies and athletes."
The Advantage Center is part of an extension of a multimedia rights relationship between Alabama and Learfield that dates back to the 1980s. The new 15-year agreement—believed to be one of the longest in college sports—builds on "traditional components" while featuring "new strategic initiatives including an original content platform in collaboration with Learfield Studios, and access to robust data and analytics enhancements via the company's Fanbase infrastructure to better connect with Alabama fans," a joint statement said.
Learfield, which owns the multimedia rights of 99 FBS programs, has dipped a toe into the NIL world over the last several months in an effort at combining a school's institutional property, such as marks and logos, with athlete NIL. For instance, last month, the company announced the rollout of a national relationship with Dunkin' Donuts that will provide dozens of college athletes commercial NIL opportunities while they wear their school's colors and logos.
As the NIL era eclipses its 18th month of existence, college programs are beginning to gear more resources toward this burgeoning facet of the industry. For instance, at Clemson, the university is in the final stages of completing an addition to the Poe Indoor Facility that will house the Clemson Athletic Branding Institute, a space strictly dedicated to athlete NIL activity.
Several schools have hired new staff members in compliance with the expressed purpose of helping educate athletes on NIL and overseeing the facilitation of deals with third parties.