A few years ago, I would have written this out of sickness.
As a former Jets beat reporter, I remember what an absolutely, mystifyingly out-of-body experience being in that locker room could be. Here we were standing in the middle of a quarterback Bermuda Triangle with Tim Tebow, Mark Sanchez and Greg McElroy. We had no idea who was starting Sunday. The head coach (probably) talking about fighting someone. It was an astral projection of chaos. It was entertaining in the way being at a friend's house in high school whose parents were routinely absent was fun. But after a while, you craved some structure and discipline. You wanted someone to tell you what to do and make you a sandwich on responsibly packaged multigrain bread.
And when you have that sickness, there's part of you that craves more sickness. Spend a ton of draft capital on an end-of-career veteran quarterback who, on the best of days, can be a bit metaphorical and spacey and on the worst of days power trips the franchise into a circuit break? Sure. Why not? How much weirder can it get? Let's find out.
But now, as we look at the actual possibility of seeing Aaron Rodgers and the Jets come together, I'm seeing through sober eyes. This is a good idea, and not in the way mixing your Gatorade and Absinthe together is a good idea. It's actually a good idea. A get-eight-hours-of-sleep idea. An eat-a-mediterranean-diet idea.
We've come here today to ask the Jets to see it the same way. We've come here to ask the Jets to go get No. 12 (the 39-year-old one, not the 46-year-old one).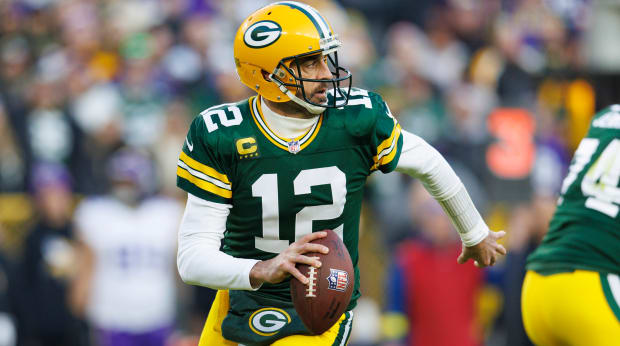 First, I'll address the obvious concerns. Rodgers and the Packers are coming off a disappointing season in which the quarterback seemed to have missed an abnormally large percentage of throws (to be clear, relative to the borderline perfection with which he usually operates). It took the offense months to get in rhythm. Rodgers had an avulsion fracture in his thumb. He is going to cost a great deal of money. He is going to cost a great deal of draft capital. He doesn't have much left to prove, and there is always the risk that acquiring him has more of a Jay Cutler in Miami feel than a Tom Brady in Tampa Bay feel.
Next, I'll address the potential inevitability that, like all Rodgers offseason storylines, they will vanish into the ether in a few weeks and we'll all get back to guessing when he'll arrive at training camp and debating whether or not that specific date is a good idea. Like that time he was possibly going to get traded to the 49ers. Or leave to focus on Jeopardy! Or play guitar in Bon Iver. Or bat fourth for the White Sox. Rodgers is a brand that invites speculation and intrigue, whether self perpetuated or through some media byproduct. There is a good chance we're wasting as much time talking about this as we did crashing computers on New Year's Eve, 1999.
With that out of the way, let's get to the meat of our proposal.
The Jets should take this as a massive compliment on National Compliment Day. While their season ended with a long-ish losing streak and the Zach Wilson experiment can be cautiously labeled a failure, none of this happened in a manner consistent with the franchise's calamitous past of more than a decade ago. One could see a scenario in which it takes home offensive and defensive rookie of the year awards. It is, unquestionably, a good place to come to work every day. We wrote about it from a player perspective and a staff perspective during the 2022 season. They boast fertile ground for which a prospective quarterback would want to trod upon. Out of all the teams with obvious openings this offseason (Tampa Bay, Indianapolis, Carolina, Las Vegas, Tennessee, Houston, Washington, New Orleans and Atlanta), few of them can offer the same combination of offensive line proficiency, weapons and complementary defense.
Also, Rodgers could end up being better than he was a year ago. Last year, the Packers' offense was broken not just because of the quarterback. There were issues with rookie receivers and across the offensive line, there was a lag time in their ability to adjust schematically, the run game didn't arrive until December, and by then, Rodgers was working with a busted hand.
He represents the highest ceiling of this offseason quarterback class. Brady will be 46 next year. Derek Carr, Jimmy Garoppolo, Ryan Tannehill, Jameis Winston and Marcus Mariota all seem to represent various plot points on a graph of conservative options that will yield a noticeable, but not franchise-altering improvement. Sure, one may contribute an extra win or two, but most of these players are an amalgam of the middle to upper-middle tier of the position. The Jets shouldn't be making a move to edge into the playoffs as a No. 7 seed. They should be making a move that could result in winning the AFC East.
With a healthy season, invigorated by a new place, Rodgers could break the Jets out of a Colts-ian future (frustratingly talented and well-coached, but without the requisite oomph at the quarterback position to make it over the postseason speed bump). This is a team that has not been noticeably elevated by play at the position since 2008, when it made the similarly bold choice to trade for Brett Favre. This is a team still set up to run a version of the same offense that produced back-to-back MVP seasons for Rodgers in his late 30s. Simply finding different ways to feed Garrett Wilson on time and on target would put the Jets on pace to be a top-10 offense.
There is even an ayahuasca retreat and shamanic healing center a mere two hours and seven minutes from the facility that accepts and sells gift cards should the team wonder what to get him on his free agent visit (it would blow the cupcakes they tried to give Dont'a Hightower out of the water). He could live there if he wanted to and study plays on his iPad on the long car ride home like Philip Rivers in his final years with the Chargers.
New Jersey is also great. It makes up for a lack of psychedelic retreats with an abundance of reasonably priced diners and pizzerias (which, depending on the day, are almost as satisfying).
The choice is theirs. Rodgers has arrived in a place of openness after his own personal journey, just like I, an observer of this franchise, have arrived at mine. I can see it working in an entirely non-cynical way. No more sickness. It's time for the Jets to take that journey of their own and decide how good they'd like to be in 2023.