This is an archived article and the information in the article may be outdated. Please look at the time stamp on the story to see when it was last updated.
Some equipment can, and should, only be found in the hands of professionals. Outside of a few exceptions, however, sandblasters aren't among them. These machines use teensy particles to accomplish various tasks, such as stripping paint, polishing metals and etching designs into glass.
There are complicating factors, though, such as what type of blaster to get and even what kind of particle to blast through them. Plus, even though they're commonly used in noncommercial settings, you still need to know how to use them safely.
In this article: Campbell Hausfeld Sandblaster, Jewboer Sandblaster Kit and Le Lematec Sandblaster Kit.
Sandblaster types
There are four types of sandblasters.
Gravity-fed blasters are the most basic, perfect for those getting their sandblasting bearings. They use compressed air to blast your chosen particles, contained in a hopper above the gun. They can be used effectively for most tasks but have two significant downsides. First, their capacities are typically small enough that you'll need to reload your particles frequently. Secondly, they can't be used upside down or on their sides, limiting your range of attack.
Siphon-fed blasters are an upgrade on gravity-fed blasters. They use large bags or buckets full of particles that you place your feed tube in. Then, using complex physics, the particles are drawn up and blasted out.
Tank-fed blasters use a pressurized tank of particles, giving them the steadiest flow. They come in all capacities, from several gallons to 150-plus gallons. They require more parts and upkeep, so only consider one if you know you'll use it often.
Cabinet blasters are unique in that all the blasting is done inside a cabinet. This cabinet is made of extra-tough transparent material so you can see your work, which lets you work with increased safety and decreased cleanup. They're expensive and should only be considered if you use a blaster practically daily.
Sandblaster safety
Sandblasters are fairly straightforward . Essentially, you load them and fire. For better or worse, this simplicity extends to included safety features, in that there aren't any. Not in the way you might think, such as having automatic off features or warning lights or sounds.
Instead, sandblaster safety comes down to two things:
Protective gear: Always wear full protective gear before using any non-cabinet sandblaster. This means thick protective clothing that can withstand the sand and covers all of your skin; thick protective work gloves that accomplish the same goals; a face shield to protect against errant particles; and above all else, a respirator to prevent respiratory diseases caused by inhaling particles.
Situational awareness: This is a fancy way of saying, "Don't sandblast living things." It also means you should double-check that you won't accidentally blast anything you aren't supposed to.
Particles used in sandblasters
It turns out you don't use sand in sandblasters. People used to when they were first invented, hence the name, but today it's understood that sand has two significant downsides. The biggest is that the silicon in sand can cause an incurable respiratory disease called silicosis if too much is inhaled over long periods. The second is that sand isn't as effective as other particles.
Some of the most commonly used particles instead of sand are:
Aluminum oxide: This is essentially sandpaper, perfect for stripping paint and rust.
Glass beads: These are commonly used for cleaning tile and removing old grout.
Plastic: This is among the softest particles, used for cleaning more delicate things, such as fiberglass.
Cost
Gravity-fed sandblasters cost the least, typically $30 to $50. Siphon-fed blasters usually cost about the same or a little more. Tank-fed blasters have a huge price range, costing $80 to $700-plus, depending on capacity. Cabinet blasters are even wider-ranging, starting around $200 to $250 for something small and costing $2,000-plus for noncommercial and $5,000-plus for commercial sizes.
Best sandblasters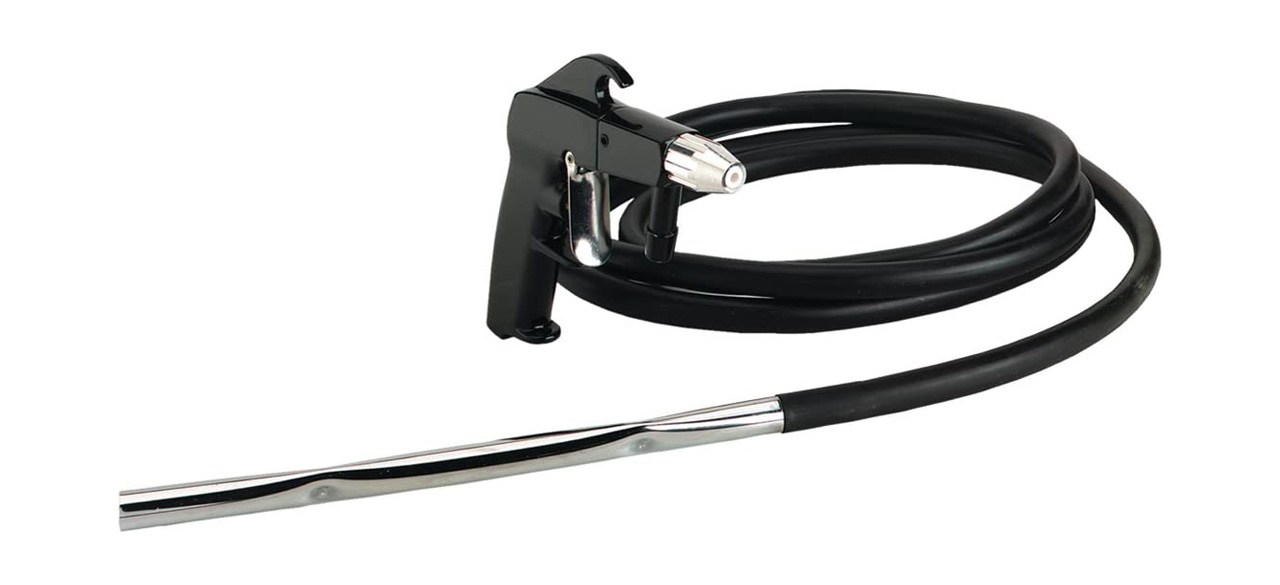 This siphon-fed blaster has a 10-foot hose that draws most particles from a bucket or bag. It includes an Allen wrench for making adjustments or changing pieces.
Sold by Amazon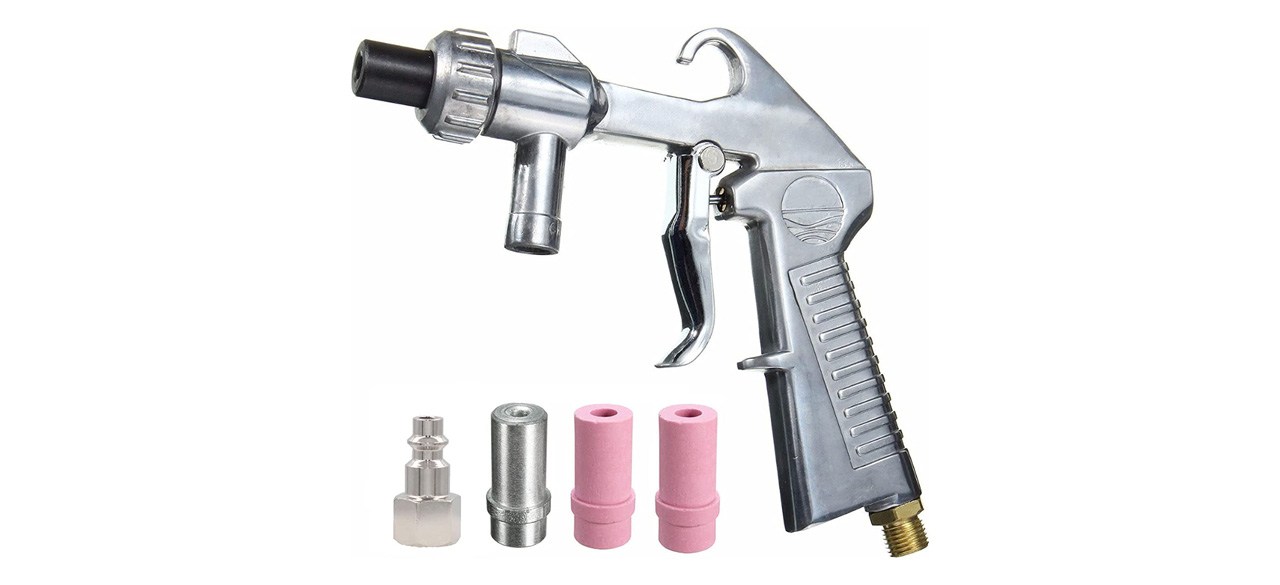 This blaster kit includes a gun and four nozzles meant for use with a cabinet blaster you already have. The nozzles are 4.5-millimeter ceramic, 5-millimeter iron, 6-millimeter iron and 7-millimeter ceramic.
Sold by Amazon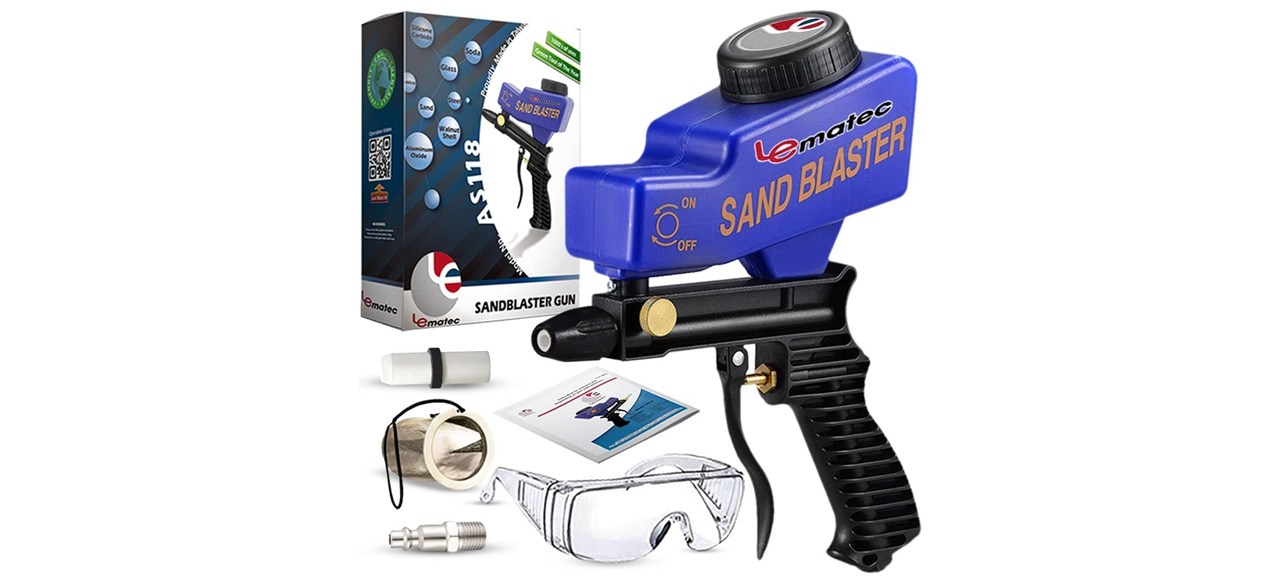 This gravity-fed sandblaster is perfect for small jobs around the home or for etching designs into glass. It also comes with some extras, such as a pair of safety glasses.
Sold by Amazon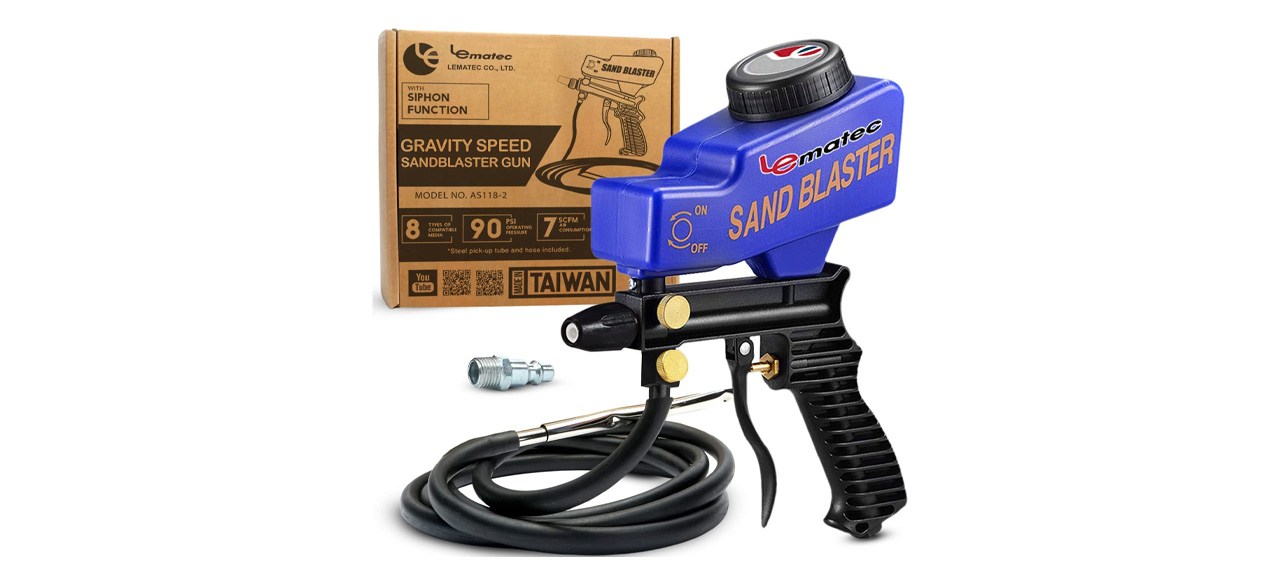 This is essentially the same blaster as the one included in the kit, but it doesn't have any extras for those who already have everything they need.
Sold by Amazon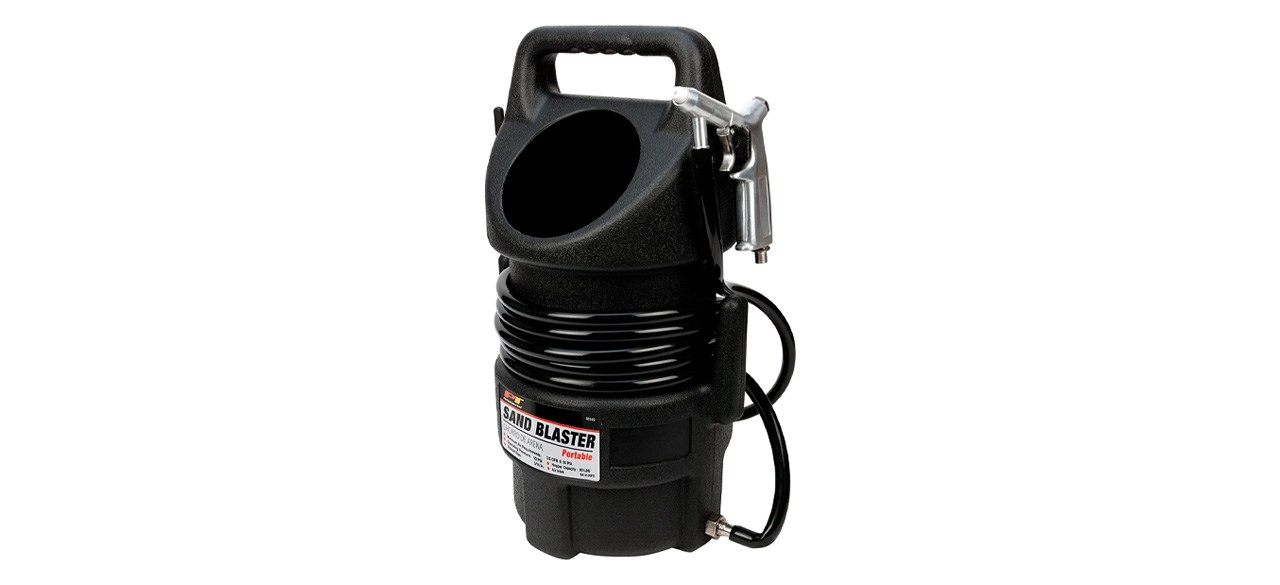 Most gravity-fed sandblasters have small hoppers, so you have to stop to refill constantly. This one is the opposite, holding up to 50 pounds of particles. The hose is 15 feet long.
Sold by Amazon
Best respirators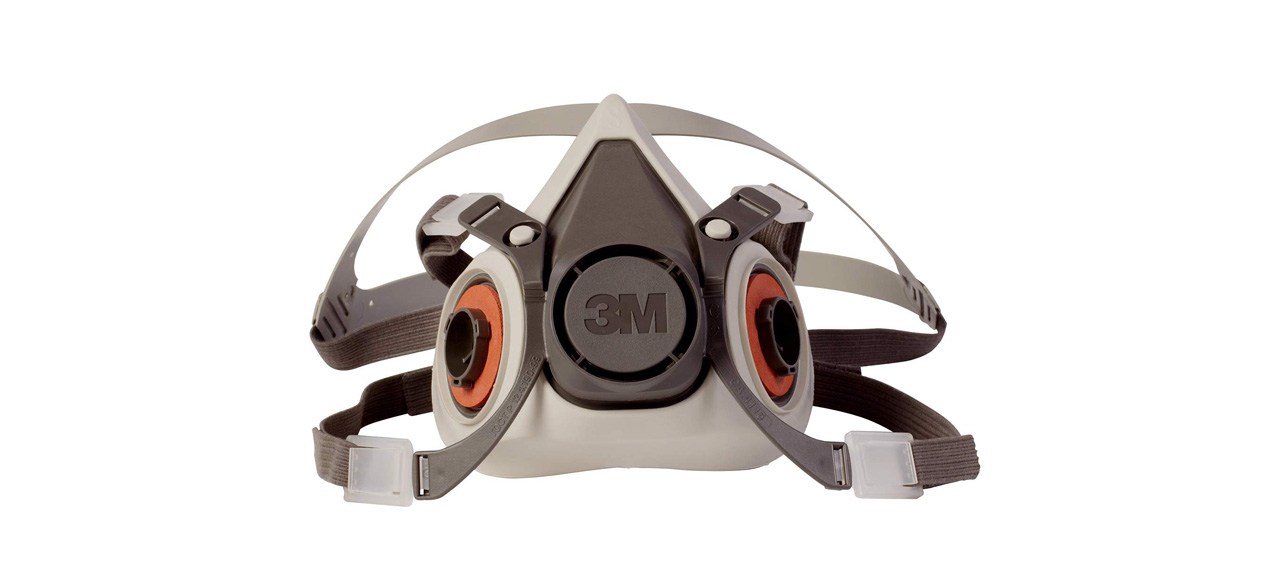 3M Personal Protective Equipment Respirator
This respirator has several adjustment points to achieve a strong, tight fit without sacrificing comfort. It comes in two sizes and includes a storage bag.
Sold by Amazon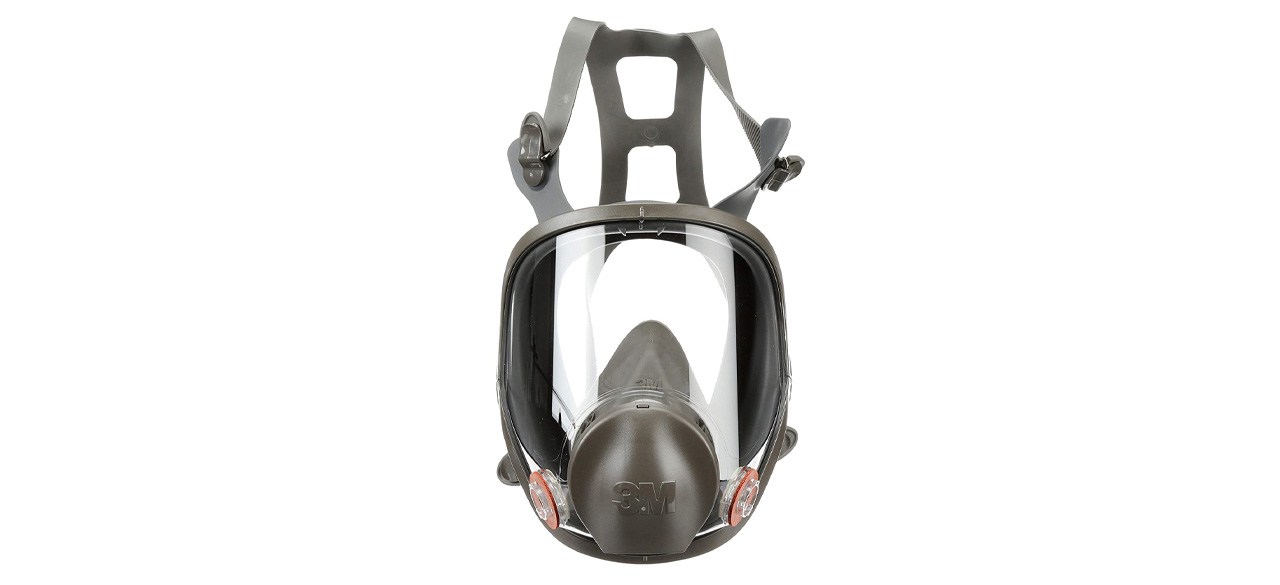 3M Personal Protective Equipment Full-Face Respirator
This is an excellent all-in-one respirator for sandblasting, as it covers and protects your face while protecting your airways. All four straps are fully adjustable, and the face shield is replaceable.
Sold by Amazon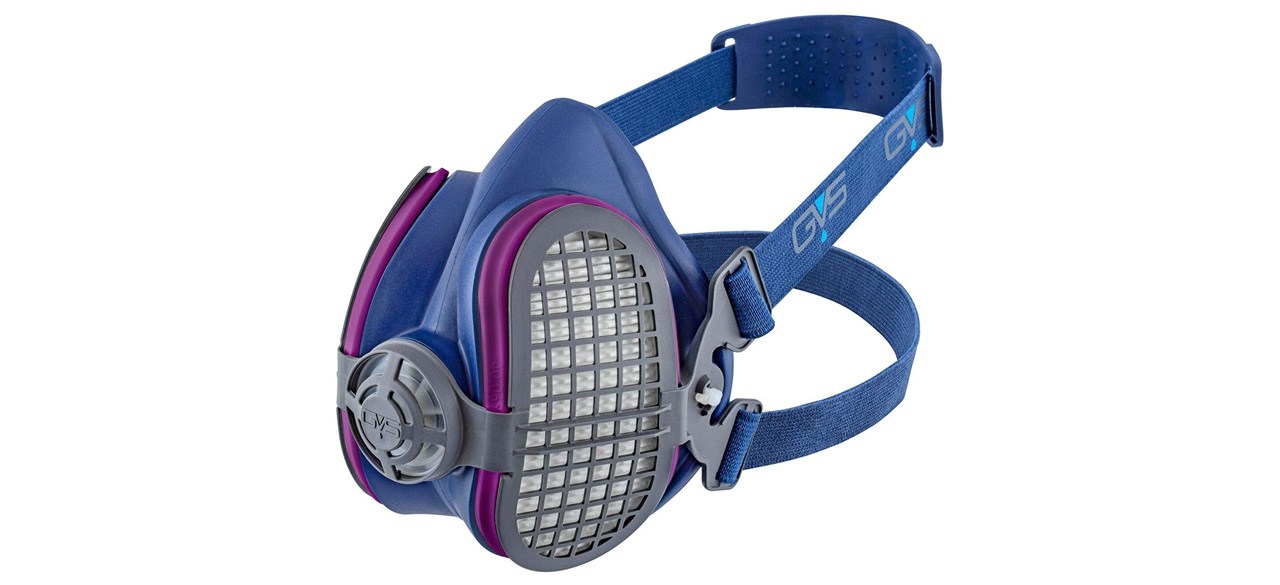 This respirator has a low breathing resistance to reduce fatigue. It comes in two sizes and two models: a base model and one that can help eliminate nuisance odors.
Sold by Amazon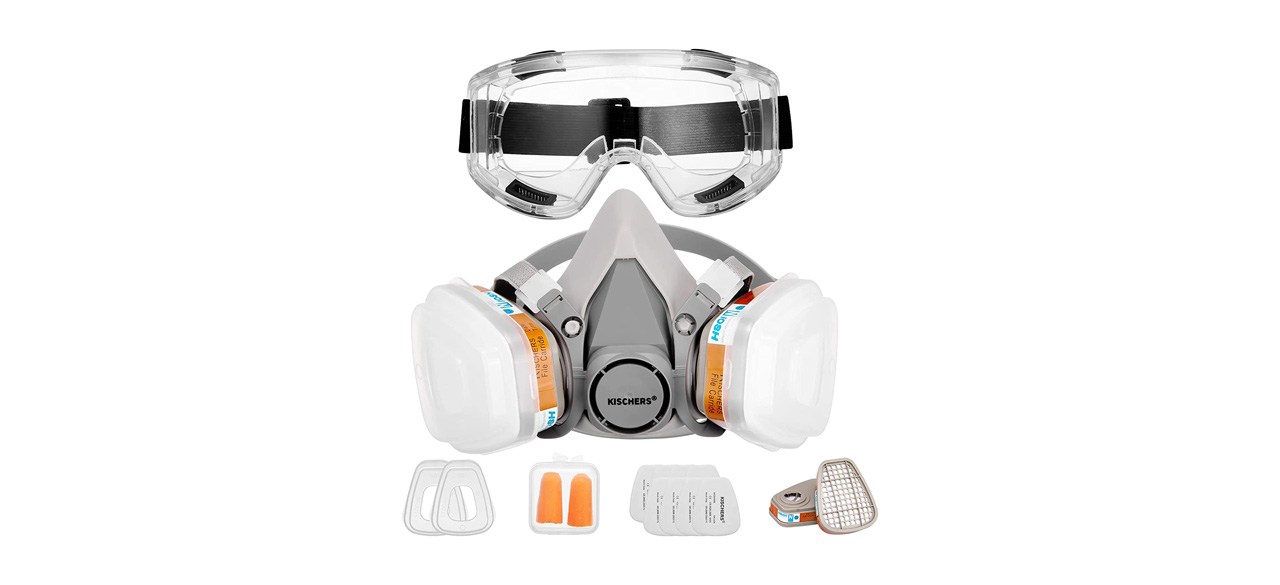 This kit includes almost everything you need to protect the face: the half-face respirator, safety goggles, two replaceable filter boxes, two caps, eight cotton filters and earplugs.
Sold by Amazon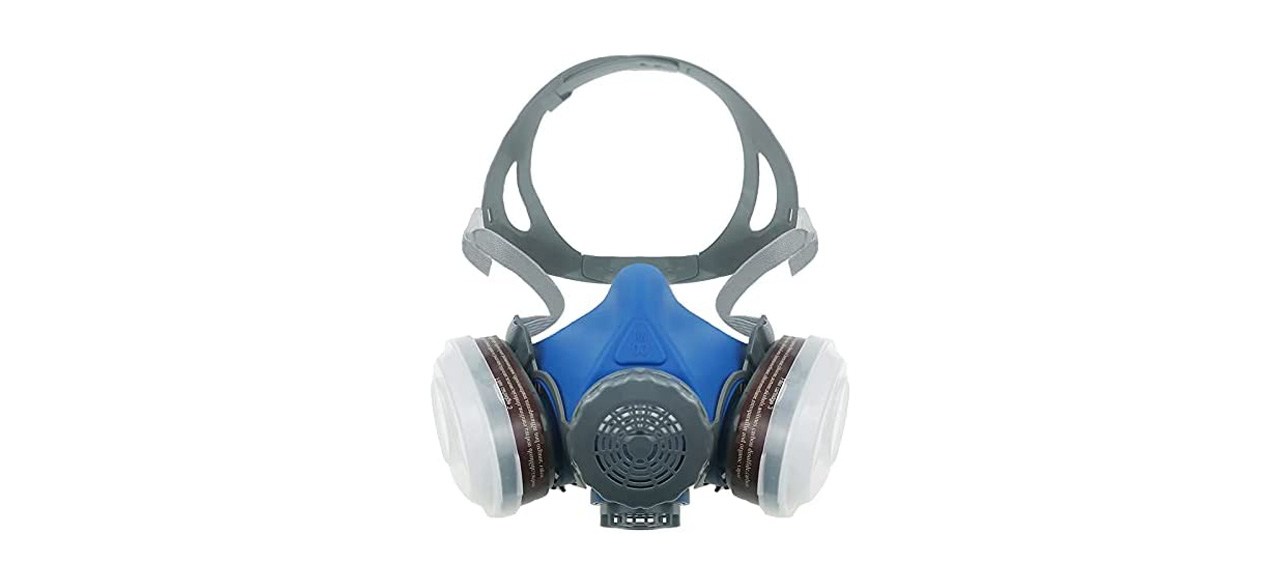 This respirator leaves more of your face untouched by straps, using a large halo-like strap that goes on the back of your head. The included filters don't expire for three years.
Sold by Amazon
Want to shop the best products at the best prices? Check out Daily Deals from BestReviews.
Sign up here to receive the BestReviews weekly newsletter for useful advice on new products and noteworthy deals.
Jordan C. Woika writes for BestReviews. BestReviews has helped millions of consumers simplify their purchasing decisions, saving them time and money.
BestReviews spends thousands of hours researching, analyzing and testing products to recommend the best picks for most consumers.
Copyright 2023 BestReviews, a Nexstar company. All rights reserved.