This is an archived article and the information in the article may be outdated. Please look at the time stamp on the story to see when it was last updated.
Good bakers know that great results require paying careful attention to every part of the creative process. While quality ingredients are paramount, the right tools and appliances are also necessary to ensure that baked goods turn out consistently. If you want to improve the quality of foods you enjoy making while skipping some time-consuming manual labor, look no further than the flour sifter. This simple kitchen device may look unassuming, but the difference it can make in the quality of your cookies, breads, brownies and cakes will seriously improve your baking game.
In this article: Natizo Stainless Steel 3-cup Flour Sifter, Norpro Battery-Operated Sifter and Bellemain Stainless Steel 3-cup Flour Sifter.
Why you should sift your flour
Tight packing and humidity can cause flour to form clumps that need to be pulverized manually. Sifters let you quickly break these clumps up, returning the flour to a fine powder that can be more accurately measured. Light, airy flour is also easier to incorporate into dry mixes. This means that any dough or batter you make will have its ingredients evenly distributed and your finished treats will have a smooth texture free of any grittiness.
How flour sifters work
No matter which type of flour sifter you use, they all function in the same way. Flour placed in the sifter is collected in a canister where a spinning agitator breaks up clumps. The powdered flour then falls through the canister's mesh bottom into a bowl or storage container of your choosing.
Flour sifter types
Crank-style. These sifters have a crank on them that you manually turn to engage an agitator. You hold the sifter in one hand and use the other to spin the crank.
Squeeze-handled. Some sifters have a spring-loaded lever built into their handles. Squeezing the lever repeatedly moves the agitator. You can use squeeze-handled sifters with one hand, but if you are susceptible to wrist strain or cramping, you should opt for a different design.
Electronic. Battery-powered sifters are the easiest to use. With the press of a button or the flip of a switch, a motorized agitator does all the work for you. Battery-powered sifters are convenient, but because they include electronic components they are harder to clean.
What to look for in a flour sifter
Aside from the type of sifter you prefer, there are a few other factors to keep in mind while you shop.
Capacity. Consider your baking needs to determine what size sifter you should purchase. A large capacity sifter that can process eight cups of flour is great for commercial purposes but too large and heavy if you only bake occasionally. Most people find that a 4-cup sifter suits their needs without becoming cumbersome.
Cleaning. Keeping your flour sifter clean will prevent bacterial growth and ensure that its moving parts operate smoothly without friction. Look for a sifter that doesn't have any more nooks and crannies to keep cleanup from becoming a chore.
Speed. For maximum efficiency, opt for a crank-style or squeezable sifter. An electronic sifter requires less effort, but you may find it to be slower than a manual one that puts you in charge of how fast it operates.
Best crank-style flour sifters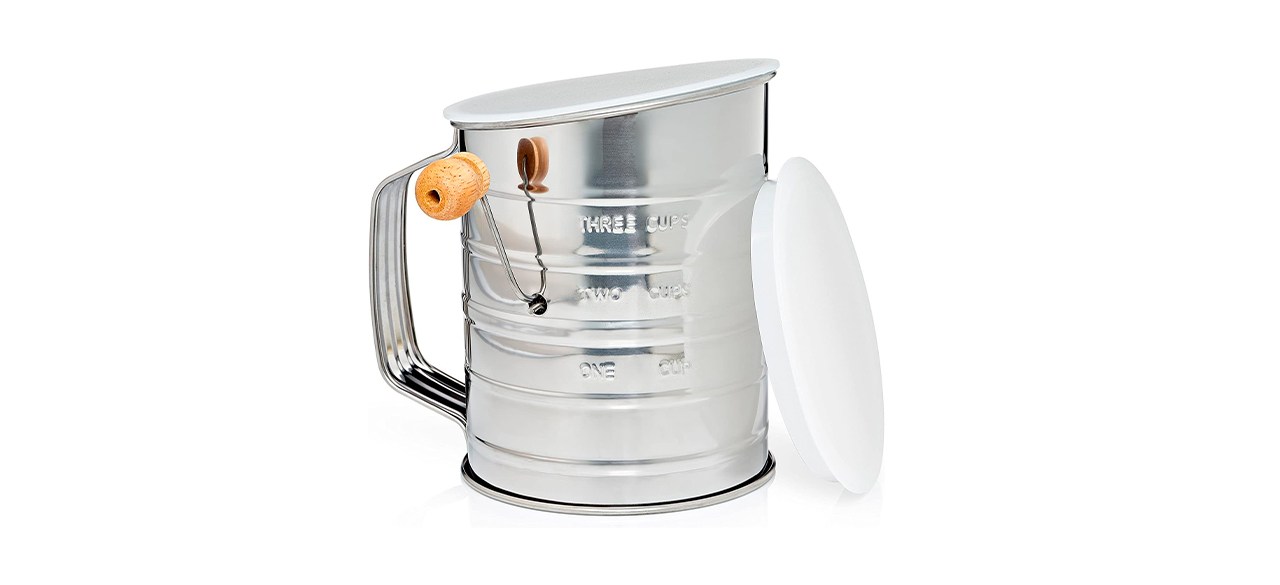 Natizo Stainless Steel 3-cup Flour Sifter
With lines indicating 1, 2 or 3 cups, you can measure exactly how much flour you need with this sifter made out of stainless steel. It includes lids for the top and bottom of the sifter, preventing flour from taking to the air when you turn the crank or dropping into the cupboard during storage.
Sold by Amazon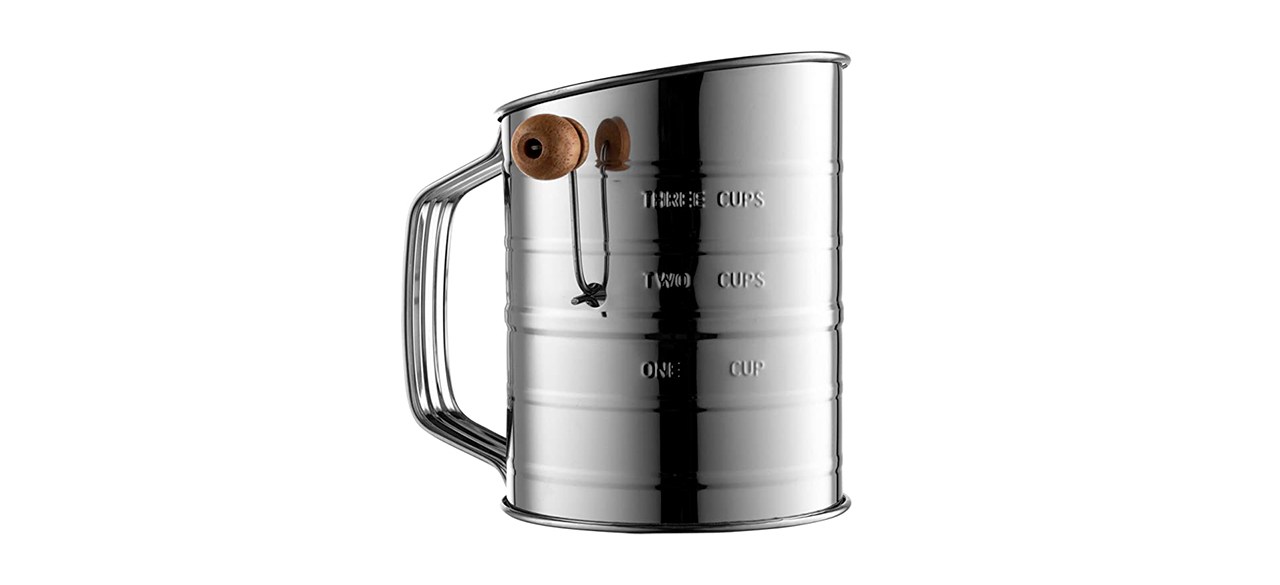 Bellemain Stainless Steel 3-cup Flour Sifter
A single mesh layer makes cleaning this sifter a breeze. Turning the wooden handle on its crank engages a double agitator, making it twice as efficient as most other sifters.
Sold by Amazon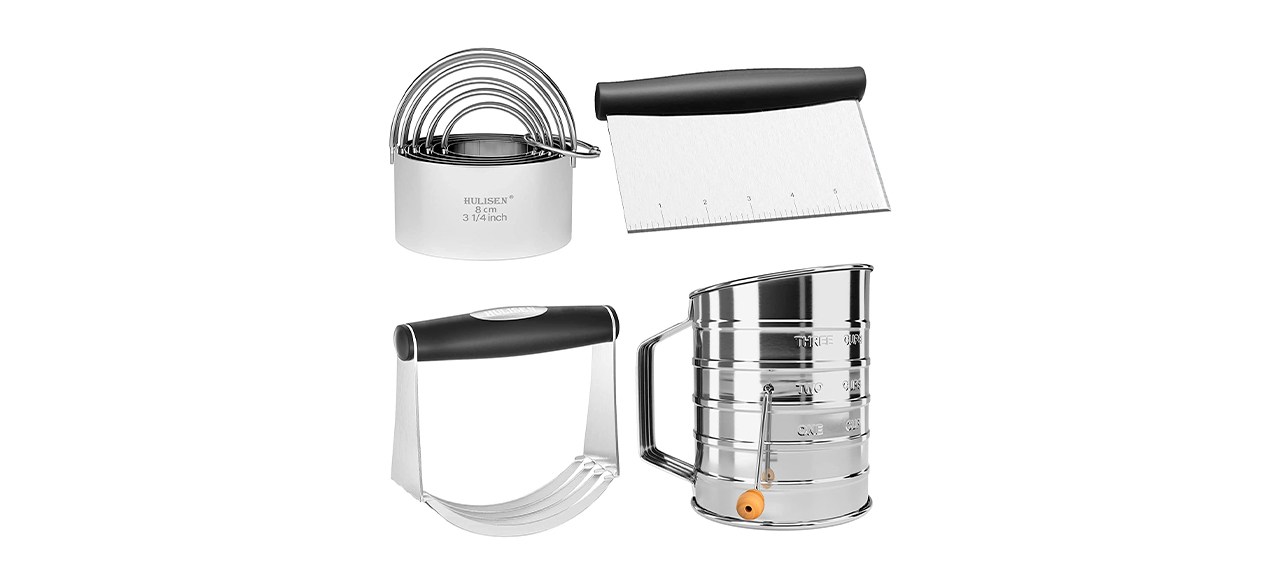 Hulisen 3-cup Flour Sifter, Pastry Cutter, Dough Blender and Biscuit Cutter
This set includes a 3-cup, crank-style sifter and three additional pieces of kitchen hardware that bakers simply can't do without. Whether you're new to baking or looking to refresh your tools, this kit is a great bargain.
Sold by Amazon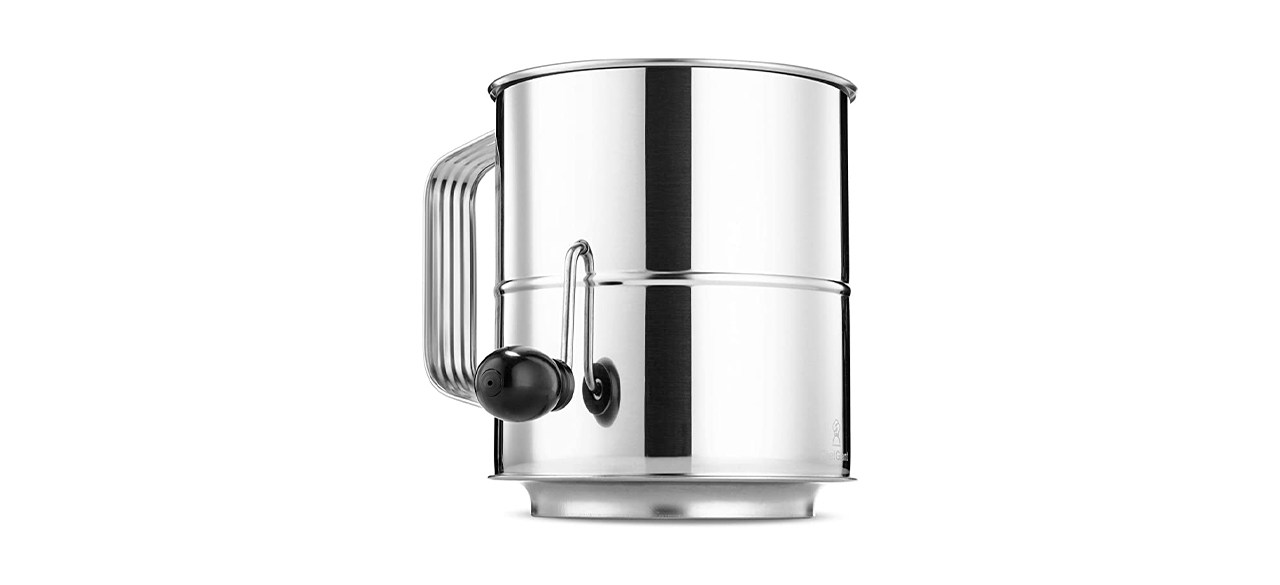 This stainless steel sifter can hold up to eight cups of flour, making it ideal for commercial baking. It features a fine mesh screen that allows for more consistent sifting and easier flour incorporation.
Sold by Amazon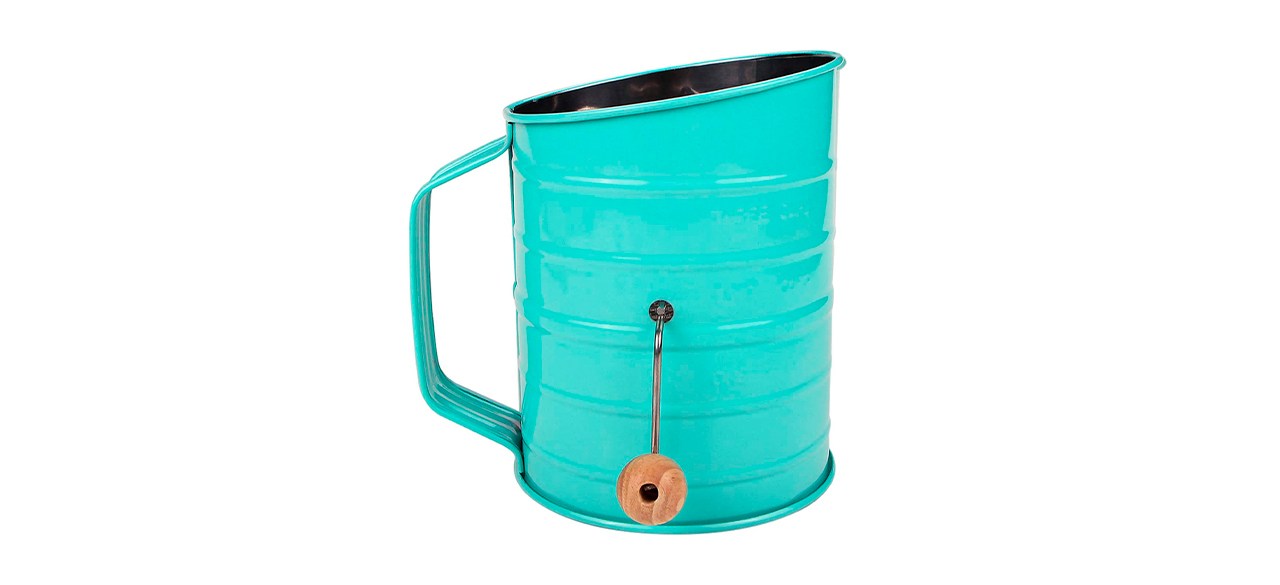 For those looking to add some colorful flair to their baking tools, this turquoise sifter fits the bill. A classic rotary hand crank and double agitator make this stainless steel sifter a simple but effective tool.
Sold by Amazon
Best squeezable flour sifters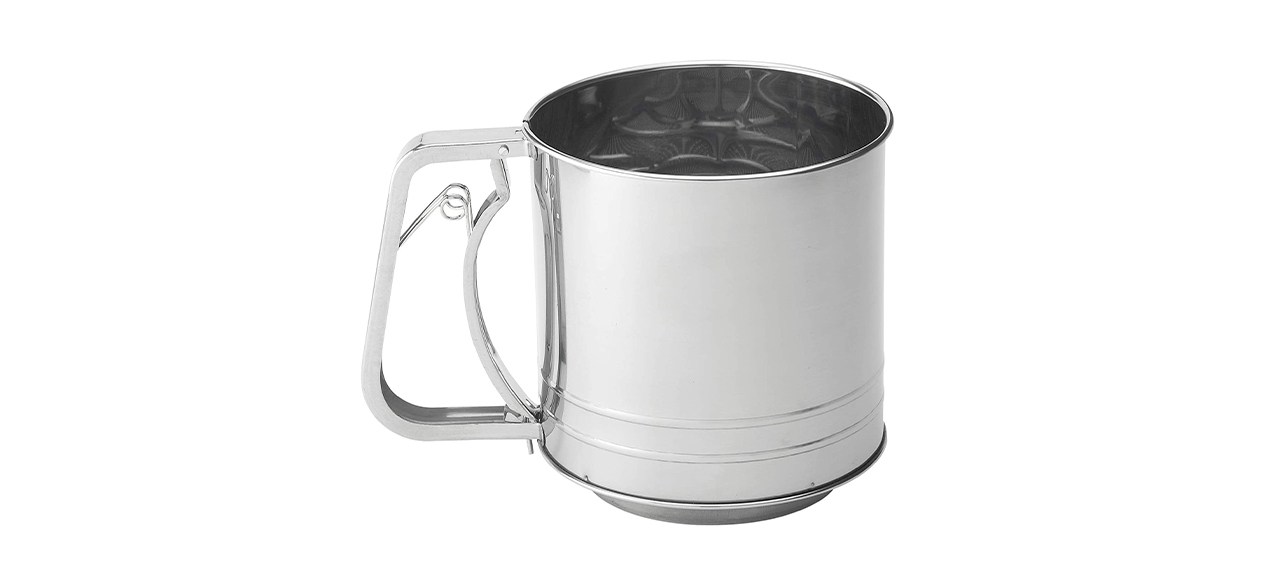 Mrs. Anderson's Baking Hand Squeeze Flour Sifter
Thanks to its squeezable handle, you can operate this sifter while keeping your other hand free. Spring action makes the agitating easy, and its stainless steel construction will keep you baking for years to come.
Sold by Amazon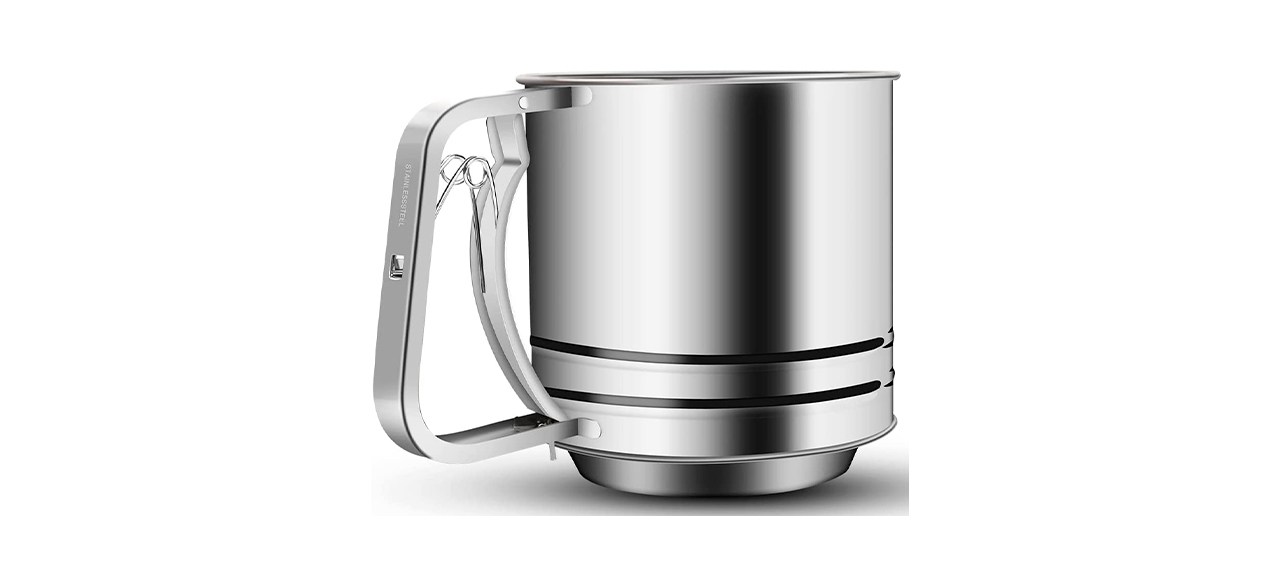 NPYPQ 5-cup Stainless Steel Flour Sifter
This durable sifter can be operated with one hand, thanks to its spring-loaded handle. Its polished mirror finish complements any kitchen. Two layers of mesh make your flour, cocoa powder or sugar soft and powdery.
Sold by Amazon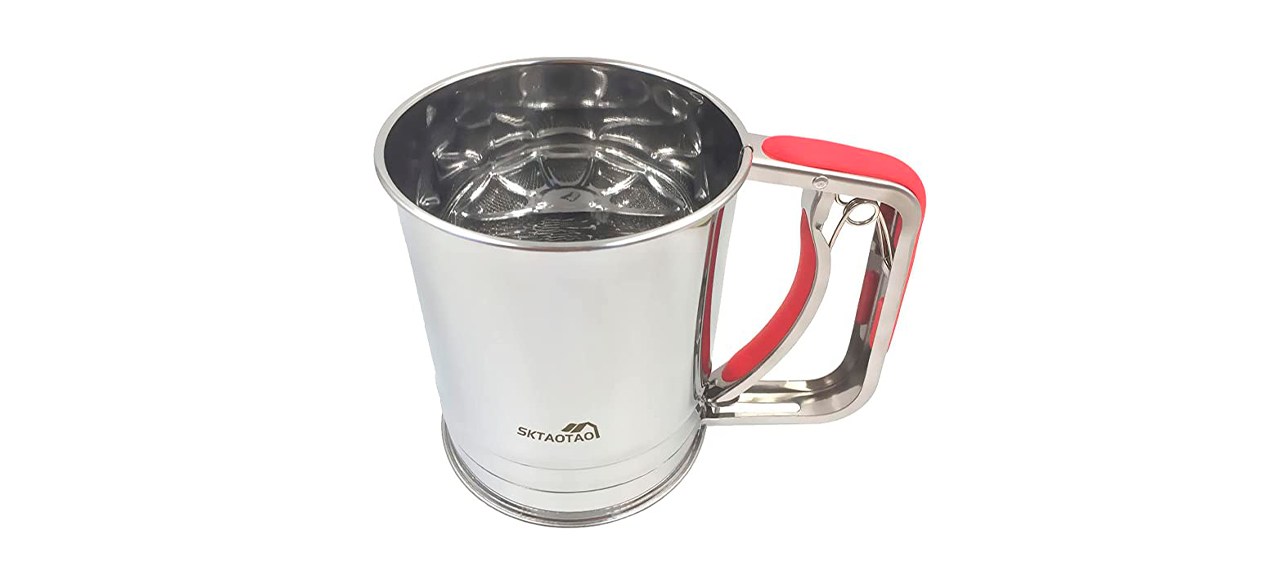 This sifter can hold 3 cups of flour, is operated with only one hand and features three layers of mesh screens. Silicone pads on its handle keep you comfortable even during repeated use.
Sold by Amazon
Best electronic flour sifters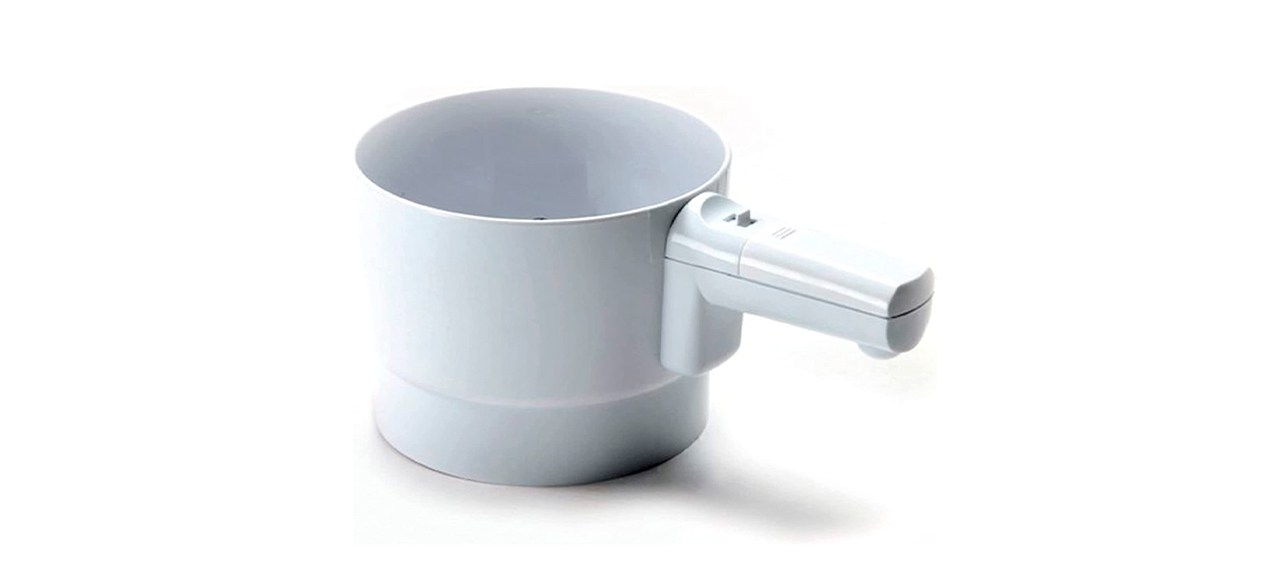 Norpro Battery-Operated Sifter
Cut down on wrist strain with this battery-operated sifter that processes your flour with the flip of a switch. It can hold up to 5 cups of powder, making it great for baking large amounts of food.
Sold by Amazon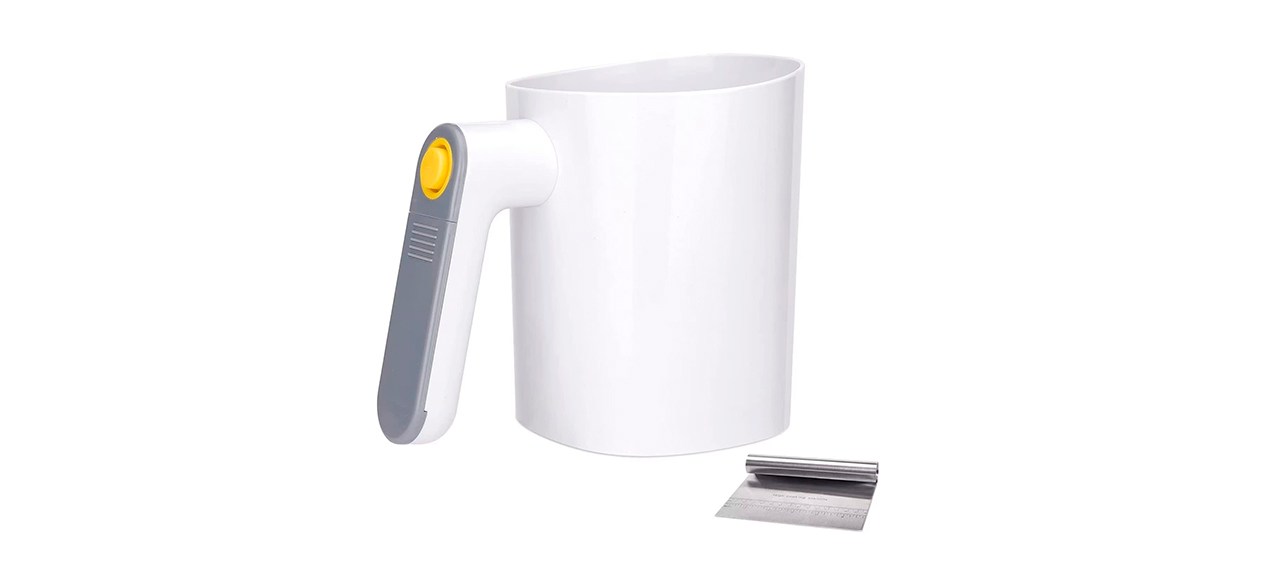 HYCBTC Battery-Operated Flour Sifter
Give your wrists a break with this battery-powered sifter that takes the effort out of prepping your ingredients. Depress the large button on its handle and it automatically aerates up to 4 cups of flour.
Sold by Amazon
Want to shop the best products at the best prices? Check out Daily Deals from BestReviews.
Sign up here to receive the BestReviews weekly newsletter for useful advice on new products and noteworthy deals.
Derek Walborn writes for BestReviews. BestReviews has helped millions of consumers simplify their purchasing decisions, saving them time and money.
BestReviews spends thousands of hours researching, analyzing, and testing products to recommend the best picks for most consumers.
Copyright 2023 BestReviews, a Nexstar company. All rights reserved.