(CNN) -- Gunfire erupted in a Columbia, Maryland, shopping mall late Saturday morning, leaving three people dead and five others injured, police said.
STORY HIGHLIGHTS
NEW: The 2 victims are Brianna Benlolo and Tyler Johnson, police say
People with minor injuries taken to Howard County General Hospital
Multiple mass casualty units were requested, according to scanner traffic
Authorities reported an active shooter on the second floor of the mall
(CNN) -- Gunfire erupted in a Columbia, Maryland, shopping mall late Saturday morning, leaving three people dead and five others injured, police said.
Howard County Police Chief Bill McMahon told reporters that the shooter apparently fatally shot a man and woman -- both store employees -- before shooting himself in a store on the second floor. The motive was unclear.
Police identified the dead employees as Brianna Benlolo, 21, of College Park, Maryland, and Tyler Johnson, 25, of Ellicott City, Maryland. Both worked at Zumiez, a shop that caters to skaters, where the shootings took place
The body of the suspected shooter was found near a shotgun on the floor of Zumiez, police said. A large amount of ammunition was found near the body, leading investigators to suspect that he might be carrying explosives.
"This should not happen at the Columbia Mall," McMahon said. "This shouldn't happen anywhere."
The first 911 call about the shooting came at about 11:15 a.m. and officers were in the mall within two minutes, police said.
The shooting "seems to have been very contained to that store and the area just outside," McMahon told reporters.
Police entered the mall and found three people dead. There was no indication of additional shots being fired. The scene was secure shortly before 1 p.m., police said.
"Think about this, on a Saturday afternoon at the mall, how many people may be in there," McMahon said at a press conference as customers and employees were still being evacuated. "Something like this happens and people run in many directions, and they also do what we train them to do -- to shelter in place."
In a statement, Maryland Governor Martin O'Malley said: "On behalf of the people of Maryland, I want to express my deepest condolences to the families of the victims and all those affected by this senseless act of violence. Protecting the public's safety is our most solemn obligation."
A federal official briefed on the shooting told CNN preliminary information indicates the shooting may have been related to a domestic dispute. Police, however, have stated they haven't yet reached that determination, saying investigators have not even determined if the shooter and victims knew each other.
Five people from were transported to Howard County General Hospital, a hospital spokeswoman said in a statement.
They were in good condition. One patient had a gunshot wound to the foot; the others suffered injuries after the shooting. McMahon said one person had a seizure, another a sprained ankle.
In a statement, management of The Mall in Columbia said: "Our hearts & prayers are with everyone in the Columbia community. The Mall in Columbia will remain closed for the remainder of the day . ... Please keep the community in your thoughts and prayers."
Employees told CNN the gunfire erupted near a second-floor food court in the late morning, sending shoppers and workers running for cover.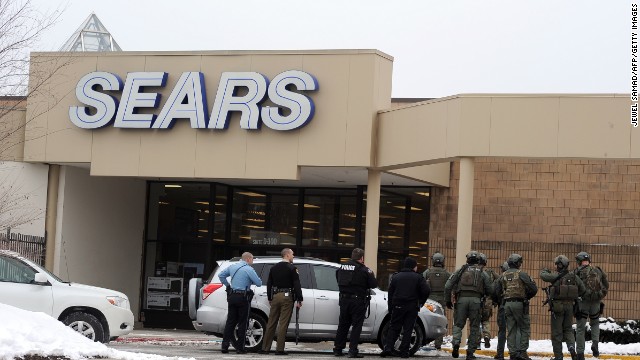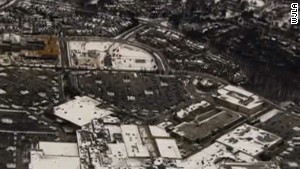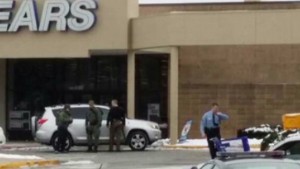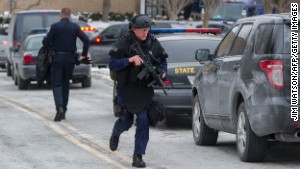 "It's a mall shooting," one mall worker, identified only as K.T., told CNN. "No one knows what's going on. In today's world, you hear gunshots and you run."
The staccato of gunfire was followed by the cries and screams of children and adults running or ducking for cover, the employee said.
"A lot of kids were crying, and mothers were holding onto them," K.T. said. "I wasn't worried about me. I was just making sure everybody was OK."
Once the shooting stopped, SWAT team members moved from store to store.
"It was just crazy," said K.T., who snapped a picture of a bullet-riddled wall near the shooting scene. "It's one of those things you see on TV but never expect you'll go through."
Colin Ready, another employee, said he heard a couple of booms and thought the sounds were from construction. Then, there were several more booms and people were screaming and scattering, he said.
The manager of the store where Ready works closed the front gate, he said. When a police officer, not in uniform, came to the gate later to say the mall had been secured, Ready said workers didn't believe he was a cop.
Laura McKindles, another mall employee, told CNN affiliate WJLA that she heard eight to10 gunshots.
"I have never experienced anything like this in my life," she said. "I was standing there talking to a customer and I started hearing all this banging coming from the food court... and people started running and they said somebody's down there and they got a gun."
Near tears, she added: "This country needs a lot of help. When somebody is that angry to go to a mall on a Saturday morning and shoot people. We're in a lot of trouble... To push people to those limits where things like that happen makes no sense."
Authorities initially reported that an active shooter was on the second floor of the mall in Howard County, according to CNN affiliateWBAL. Local scanner reports had authorities requesting multiple mass casualty units.
But one of the bodies believed to be the shooter was located near a gun and ammunition, police said. The identification of the person was unknown.
"We are very confident that it was a single shooter," McMahon said.
While McMahon spoke to reporters about two hours after the shooting, he said, SWAT teams and officers from various jurisdictions were still going store-to-store and evacuating people people who had taken shelter.
Images on Twitter reportedly from the scene showed mall employees and customers hiding in a stock room. The mall was on lockdown for some time.
The fire department, via Twitter, advised people to avoid the area.