STORY HIGHLIGHTS
NEW: Source: Two members of University of Richmond's basketball program aboard balloon
The balloon hit a power line, a state trooper spokeswoman says
Witnesses say they saw people plummet from the balloon's basket
Images show the balloon well above the ground with its basket on fire
(CNN) -- [Breaking news alert, 3 p.m. ET]
Two members of the University of Richmond women's basketball program were among the occupants aboard a hot air balloon that crashed in Caroline County, Virginia, a person familiar with the university's athletic department told CNN on Saturday. The person spoke on condition of anonymity.
[Original story published at 1:48 p.m. ET]
2 bodies found, 1 missing after hot air balloon burns, crashes in Virginia
Authorities in Virginia found two bodies after a hot air balloon crash and continued efforts Saturday to locate a third person aboard.
Witnesses captured photographs of the balloon after it drifted into power lines, burst into flames Friday night and crashed into the countryside about 25 miles north of Richmond.
Some reported seeing two people jump -- or fall -- from the gondola at a dizzying height.
The basket and the balloon separated at some point; neither had been found as of midday Saturday. Two bodies were recovered, but police declined to identify them right away.
"We are now transitioning from a rescue operation to a recovery operation at this time," Virginia State Police spokeswoman Corinne Geller told reporters earlier.
"Now that we have daybreak, we're hoping this will definitely expedite the search process," she said.
Searchers across the state, aided by K-9 teams, found a debris field with items that would have been inside the gondola, but not the basket itself, Geller said.
Thirteen hot air balloons had been soaring on the eve of the Mid-Atlantic Balloon Festival in Doswell, and three were landing in close proximity. Two landed safely, Geller said, but as the third balloon descended, it hit a power line, sparking a fire that spread quickly.
The pilot began doing his safety maneuvers and "took every step to manage the situation," the spokeswoman said. But then an explosion was heard and the basket and balloon separated.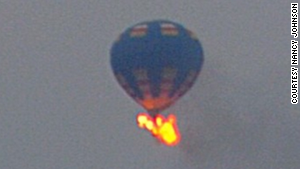 Those aboard the balloon pleaded for their lives, Carrie Hager-Bradley told CNN affiliate WWBT.
"They were just screaming for anybody to help them. 'Help me, help me, sweet Jesus, help, I'm going to die. Oh my God, I'm going to die,'" she said.
Her daughter told her she saw someone falling out of the basket. Then Hager-Bradley also saw someone plummeting to the ground.
Twenty balloon flying teams were expected to participate in the festival, which was canceled, organizers said on the event's website.
Two inspectors from the Federal Aviation Administration arrived at the scene overnight, and the National Transportation Safety Board will conduct its own investigation.
Copyright 2016 Nexstar Broadcasting, Inc. All rights reserved. This material may not be published, broadcast, rewritten, or redistributed.