Atlanta (CNN) -- Hey Northeast, now it's your turn.
The storm that Atlanta and Charlotte weathered is headed your way. And forecasters say this may be your biggest winter blast of the season so far.
The nation's capital shuttered its doors under the threat of up to 10 inches of snow.
All federal offices in the nation's capital were ordered closed, and thousands of employees were being told to stay home, according to the Office of Personnel Management. Heavy snowfall may close down the city's Metro system.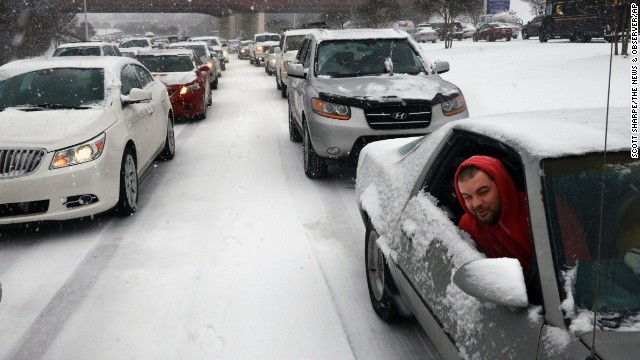 Kevin Miller looks out of the passenger window of his friend's car as they sit stuck in traffic during a winter storm in Raleigh, North Carolina, on Wednesday, February 12.
Traffic moves slowly along Wade Avenue in Raleigh on February 12. Motorists were encouraged to stay off roads.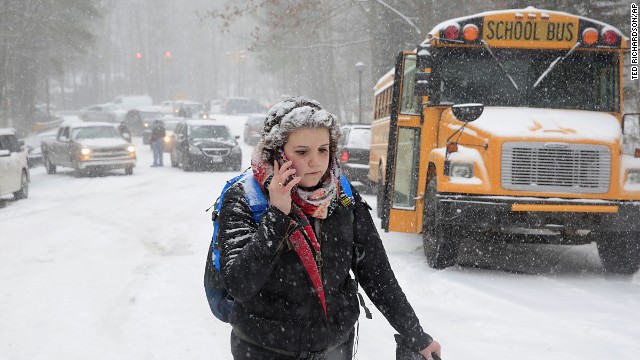 Katharine Newton, a student at the University of North Carolina at Chapel Hill, calls her parents on February 12 while walking more than two miles from campus to her parents' home.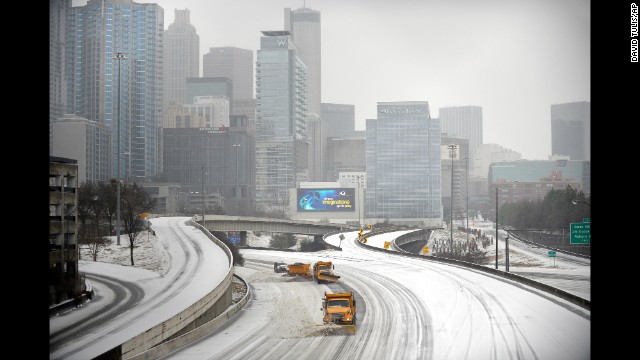 Snowplows clear Interstate 75/85 in downtown Atlanta on February 12.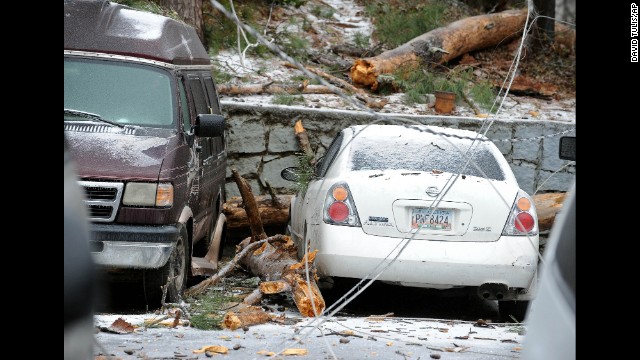 A downed power line lays across several vehicles in Atlanta on February 12.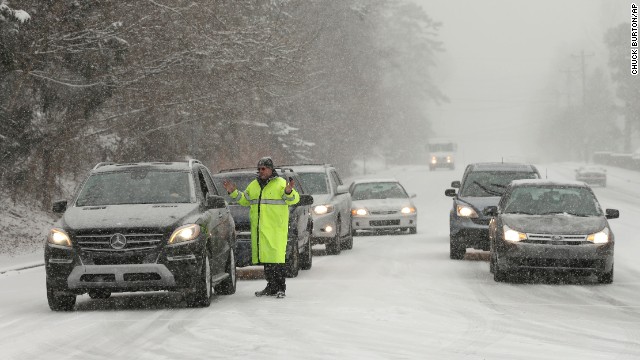 A police officer redirects traffic in Charlotte, North Carolina, on February 12.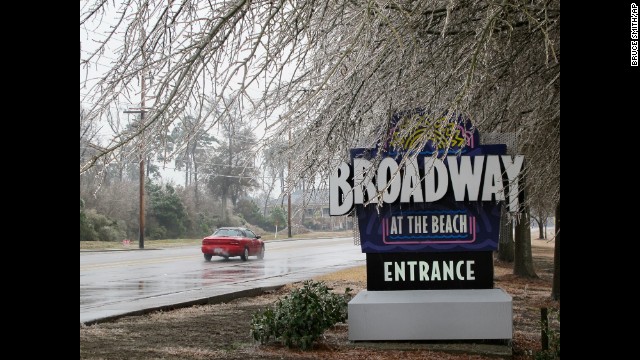 Ice coats trees hanging over a sign for the Broadway at the Beach tourist attraction in Myrtle Beach, South Carolina, on February 12.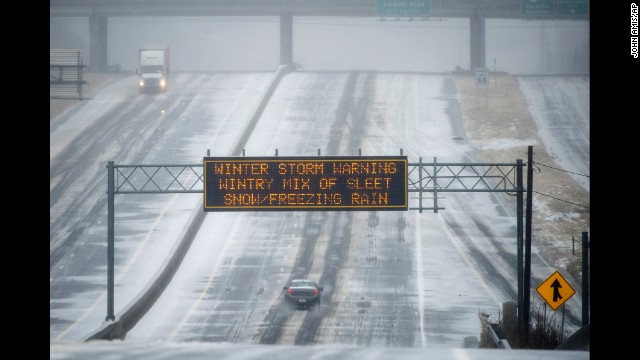 A sign warns drivers of winter weather as they travel on a bleak section of Highway 141 in Norcross, Georgia, on February 12.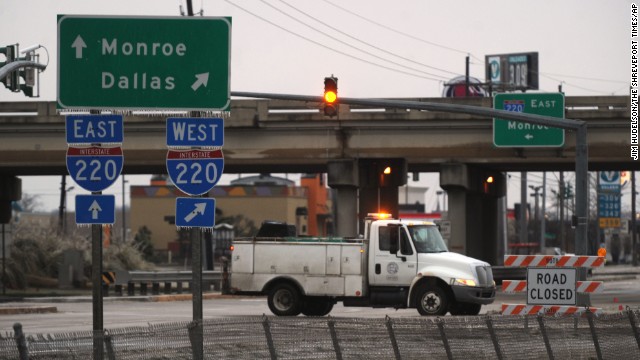 A truck in Bossier City, Louisiana, blocks access to Interstate 220, which was closed because of icy conditions on February 12.
City workers spread a mixture of sand and salt on an intersection in Avondale Estates, Georgia, on February 12.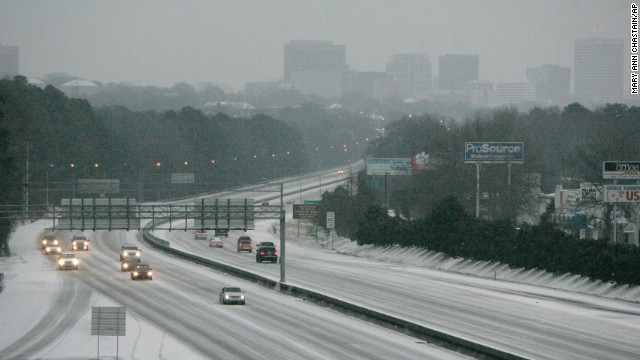 Ice and snow cover Interstate 26 in Columbia, South Carolina, on February 12.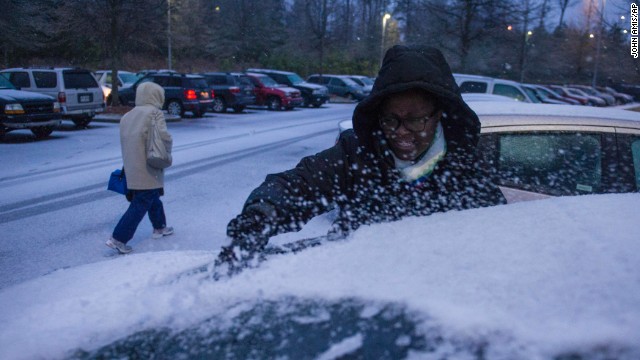 Shmetrice Moore, a nurse at an Emory University hospital in Johns Creek, Georgia, scrapes snow and ice off her windshield as she and others are released early from their shift on February 12.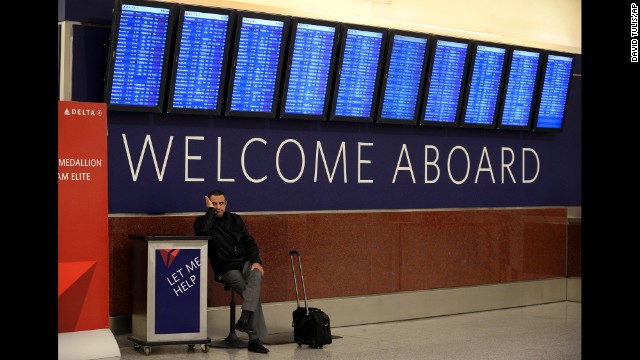 Hossam Shalaby waits for his rescheduled flight under a departure board at Hartsfield-Jackson Atlanta International Airport on Tuesday, February 11.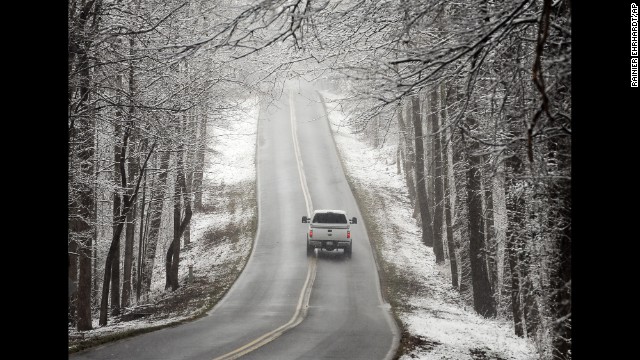 A vehicle travels in Greenville, South Carolina, on February 11.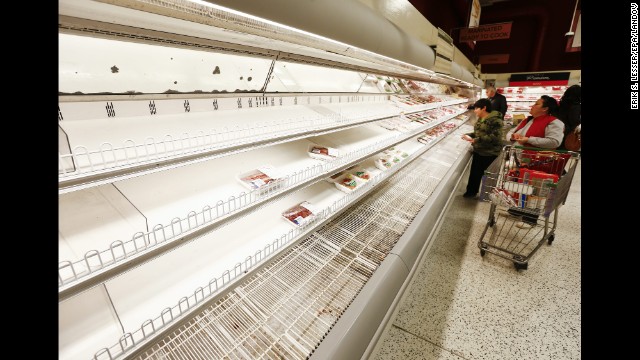 People shop for what is left at a Publix grocery store in Decatur, Georgia, on February 11.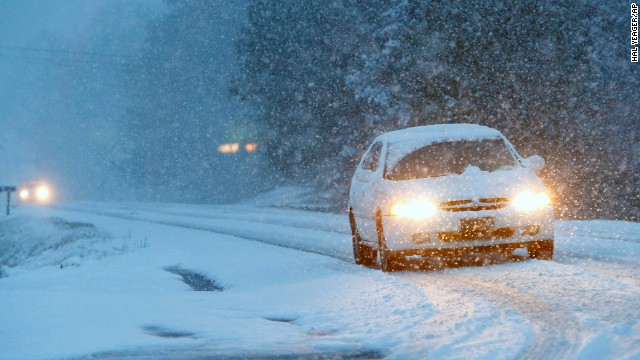 Vehicles slowly make their way over a snow-covered Route 35 in Fort Payne, Alabama, on February 11.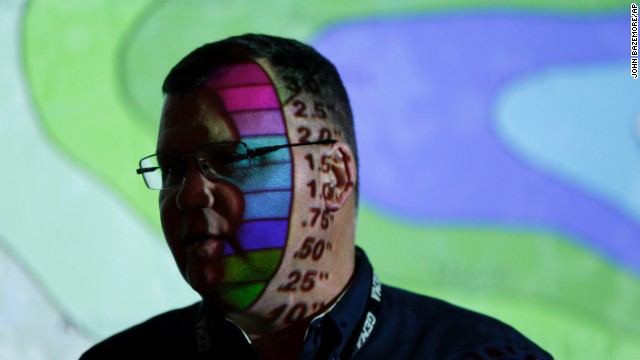 Weather data is projected onto the face of Clint Perkins, director of state operations for the Georgia Emergency Management Agency, as he works in Atlanta on February 11.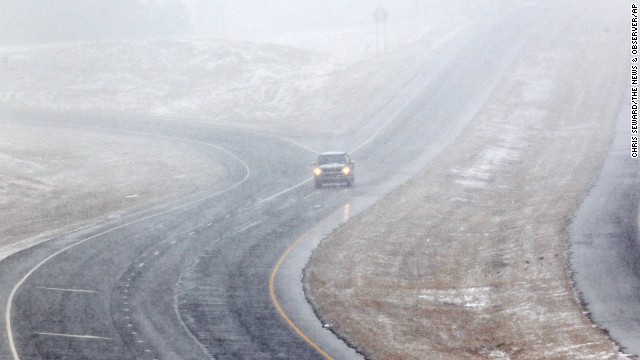 A vehicle drives through falling snow on the U.S. 421 bypass in Sanford, North Carolina, on February 11.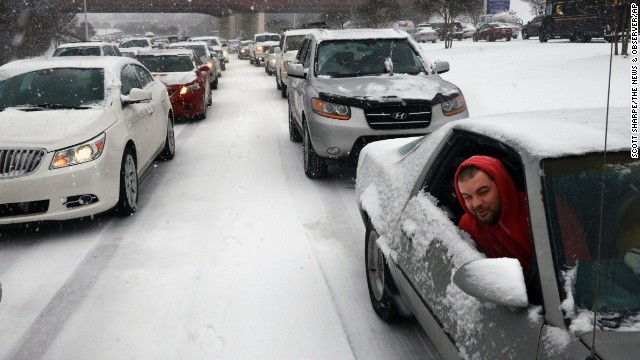 Snow, sleet, ice pelt Southeast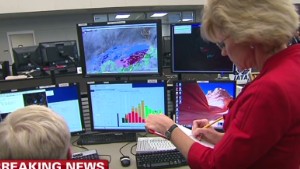 Thousands of flight canceled... Now what?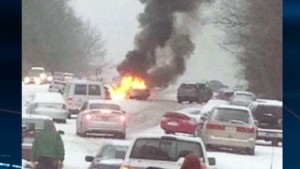 Stuck behind a burning car in NC traffic jam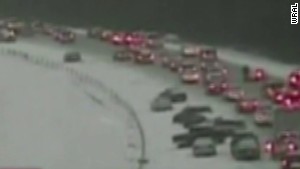 Carolina drivers stuck in icy traffic jam
Philadelphia braced for up to 11 inches of snow, while New Yorkers waited for as much as 15 inches.
Boston was in the bulls-eye too, with up to 8 inches expected there by the end of Thursday.
In the South, states sprang into clean-up mode as power outages mounted and hundreds of thousands of customers shivered through a cold, dark night.
The storm has pulled the plug on more than 772,000 customers, across 14 states and the District of Columbia. The vast majority of them are in Georgia, North and South Carolina.
And it will batter air travel for a second day.
Nationwide, more than 4,400 flights were canceled for Thursday. The total topped 3,400 Wednesday.
Rail travel isn't immune. Amtrak has suspended some service in the Northeast, South and Mid-Atlantic regions again for Thursday.
Southern contrasts
While Atlanta appeared to have learned its lesson from a paralyzing snow storm a couple of weeks ago, drivers in the Carolinas got their own taste of nightmare commutes as the storm system raced up the East Coast. The storm appeared to take people by surprise despite days of warnings.
"It's really, really bad, and it got so bad so quickly that people just weren't ready. Even though we were warned, it just happened more quickly than you would think possible." said Christina Martinson, who was stuck in the snowbound traffic with her husband and son for hours in Durham, North Carolina.
"We saw so many people ... cars piled up and left on the side of the road, and wrecks."
We saw so many people ... cars piled up and left on the side of the road, and wrecks
Christina Martinson,
Along Glenwood Avenue in Raleigh, dozens of vehicles sprawled along the roadway when suddenly a car burst into flames.
"This car started spinning out and it started to smoke under the hood and it lit up very quickly," said Lindsay Webb. "And within minutes that whole car was in flames."
For ROTC instructor Henry Sims, his typical 25-minute commute home from the University of North Carolina in Chapel Hill turned into a four-hour marathon.
It was frustrating, but also heart-warming, he said, as he witnessed Good Samaritans at work along the highway.
"I saw (a) couple walking down the road clearing the snow from the windows of vehicles that were trying to get home," he said. "To me, it showed that there are still kindhearted people in the world even if there is a disaster."
No one was immune from the traffic jams.
There were snowplows on the roads but "unfortunately some of our own trucks are stuck in the same traffic jams that a lot of other people are and they're having a hard time getting to the roads that need to be cleared," said Dan Howe, Raleigh's assistant city manager.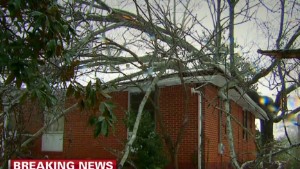 Elderly woman survives roof collapse
"Right now we've got people traveling up and down the highways in special four-wheel vehicles to make any rescues that we need to make, and more than anything else we're just encouraging people to be smart, and don't put their stupid hat on during the next 48 hours," North Carolina Gov. Pat McCrory said Wednesday.
The North Carolina Department of Transportation urged people not to abandon their vehicles.
Lesson learned
Shamed nationally by its own massive traffic jams, Atlanta drivers hunkered down at home Wednesday as sleet, ice and snow blanketed the area. Very few ventured out.
Georgia Gov. Nathan Deal applauded residents who kept the roads clear, calling it "a good starting point."
But the state's transportation department asked drivers to keep their cars parked again Thursday as road crews spread more salt and sand.
"We have to be able to put a great layer of that down on the roads and we can't do that if traffic is pushing it off to the side," Georgia Department of Transportation spokeswoman Natalie Dale told CNN affiliate WSB. "One more day, bear with us."
Temperatures are forecast to warm into the 40s on Thursday, which will help clear the roads.
In Fayetteville, south of Atlanta, a new mom struggled to keep her family warm in the aftermath of the storm
"I have a 6-year-old and a 5-week-old," Tori Webberley told the Atlanta Journal Constitution. "We are almost out of wood, but took apart a small entertainment center that was in the garage to burn for heat."
Northern exposure
As the powerful storm system pushed up the Eastern Seaboard, New York Gov. Andrew M. Cuomo told state agencies to prepare "for an impending nor'easter" and asked residents to avoid unnecessary travel.
New Jersey Gov. Chris Christie struck a similar tone.
"I think what you can anticipate is it might be a day to stay inside and stay warn," he said. "And not worry about traveling around the roads too much. I want people to stay safe."
East Coast travelers: Get ready for a nasty day Thursday
Deadly toll
At least 10 deaths have been blamed on the weather, including a 55-year-old man who was killed in a head-on collision in Virginia, authorities said. Two people were killed in Georgia, and two died in North Carolina, they said.
In Texas, three people died when an ambulance driver lost control on an icy patch of road outside of Carlsbad, the state Department of Public Safety said. A patient, a paramedic and another passenger were pronounced dead at the scene.
In Mississippi, authorities blamed the storm for two traffic deaths.
Close call
In Atlanta, 86-year-old Leila Grier said she thought her days were over when a huge tree coated in ice crashed onto her house early Wednesday, bringing the roof down on top of her as she slept.
Grier came out of it with some cuts, bruises and a big shiner under her eye, but she'll be okay.
"I'm still kind of shaky from it, cause I realize it could have been a lot worse," she said. "I thought it was judgment day."
(CNN's Chelsea J. Carter, Chandler Friedman and Gary Tuchman contributed to this report.)
Copyright 2015 Nexstar Broadcasting, Inc. All rights reserved. This material may not be published, broadcast, rewritten, or redistributed.